The US Navy (USN) flew two Boeing EA-18G Growlers as autonomous unmanned air vehicles (UAVs), using a third Growler as a flight controller.
In total, four flights were conducted at Naval Air Station Patuxent River, with tests starting in September 2019, says manufacturer Boeing on 4 February. The aircraft demonstrated 21 missions during flights that took place toward the end of 2019, says Boeing. The type of missions were not disclosed.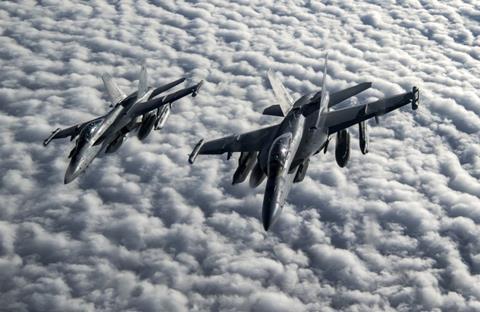 The flights are a forerunner to using the EA-18G as a mission-controlling platform for autonomous Loyal Wingman UAVs. Unmmaned-manned teaming is a new US Department of Defense concept in aerial combat where some work would be offloaded to UAVs, especially dangerous missions.
"This demonstration allows Boeing and the Navy the opportunity to analyse the data collected and decide where to make investments in future technologies," says Tom Brandt, Boeing manned-unmanned teaming demonstration lead. "It could provide synergy with other US Navy unmanned systems in development across the spectrum and in other services."
Boeing says the flights were conducted during the USN Warfare Development Command's annual fleet experiment exercises.
The EA-18G is an electronic warfare aircraft for the USN used to jam an adversary's sensors and weapons systems, such as radar-guided surface-to-air-missile batteries. It is a two-seat combat aircraft based on the F/A-18F Super Hornet fighter.
The USN has said previously that it is planning on upgrading some, if not all, of its 160-example Growler fleet to a Block II configuration, which includes an advanced cockpit system, conformal fuel tanks, improved sensors and an upgraded electronic attack package. The upgrades would also include the ability to control Loyal Wingman aircraft, Boeing said.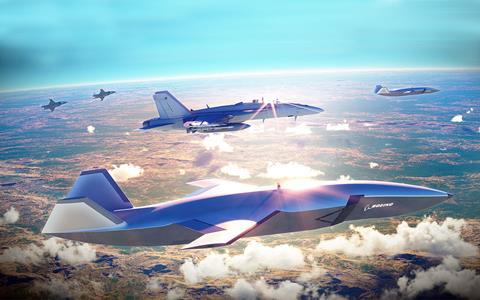 Boeing has not said previously that the Block II upgrade package would include the ability to fly the EA-18G autonomously.
"This technology allows the Navy to extend the reach of sensors while keeping manned aircraft out of harm's way," Brandt of Boeing says. "It's a force multiplier that enables a single aircrew to control multiple aircraft without greatly increasing workload. It has the potential to increase survivability as well as situational awareness."
The EA-18Gs were modified over summer 2019, says Boeing.
"Three Growlers were modified to support an open architecture processor and advanced networking, which allowed for two of the Growlers to be transformed into unmanned air system surrogate aircraft," the company says. Those two pieces of technology were prototypes that are also planned as part of Boeing's Block III upgrades for the Super Hornet, the Distributed Targeting Processor-Networked and the Rockwell Collins Tactical Targeting Network Technology radio.
The USN and Boeing shared the development costs of the manned-unmanned teaming technology, says Boeing.
Flying the Growler autonomously is reminiscent of Boeing's previously work with the QF-16, a retired Lockheed Martin F-16 Fighting Falcon that was turned into an autonomous UAV to be used as a full-scale aerial target. The initial QF-16 was first flown by Boeing in 2013.
Some defence researchers have proposed turning the USAF's fleet of retired F-16s into a group of limited-use combat UAVs.
In partnership with the Australian government, Boeing is also working on a Loyal Wingman UAV called the Airpower Teaming System. The company has depicted that unmanned aircraft flying alongside its EA-18Gs in previously released renderings. The manufacturer is aiming for the UAV's first flight in 2020.
Boeing says it is planning additional manned-unmanned teaming demonstrations between the F/A-18, EA-18G and undisclosed UAVs.