The US Navy (USN) plans to acquire up to 120 AeroVironment Blackwing unmanned air vehicles (UAVs) for its submarines.
The first drone is expected to be delivered as early as August 2021, says the service in a sole source notice it posted online on 9 March. The last UAV is scheduled to be delivered by May 2023.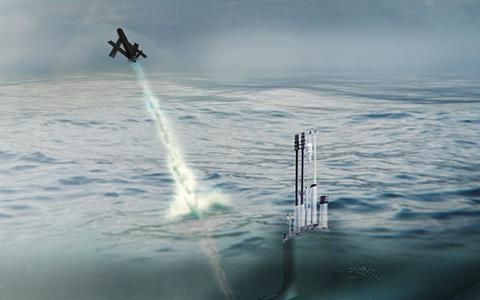 The Blackwing can be launched into the air via a submerged submarine. The UAV is packed into a canister that is ejected from an underwater submarine, the canister then floats to the surface and shoots the Blackwing into the air.
In order to fit inside a canister, the small UAV has two pop-out wing sets. It has a wingspan of 68.6cm (27in) and is powered by an electric motor-driven pusher propeller. On its nose, the UAV carries electro-optical and infrared sensors. It also carries GPS and inertial navigation systems. Those sensors combined with a tactical data link allow the UAV to pass back targeting information to a submarine.
The service has been experimenting with the Blackwing for several years. After several demonstrations in 2019 and 2020, initial operational capability for the Blackwing was declared in September, said Rear Admiral Dave Goggins, programme executive officer for submarines, reported Seapower magazine last November. The USN has demonstrated launching the Blackwing from the Los Angeles-class fast-attack submarine USS Annapolis, he said.
As part of those tests, the service practiced launching the UAV from periscope depth, and controlling the drone out to "tactically significant ranges – well beyond the line of sight", Goggins said. "By doing so she was able to target and conduct a rapid simulated torpedo attack against a participating surface ship, in this case the USS Charleston, pretty much at near-maximum effective range of that torpedo, by flying that UAV to obtain a fire-point solution after gaining that initial sonar gain."
Using UAVs to find and target ships helps submarines avoid detection and attack by remaining further away from an adversary. AeroVironment has not disclosed the range of the Blackwing. However, it is based on the Switchblade 300 loitering munition, which has a range of 5.4nm (10km).