US Navy (USN) unmanned air vehicle (UAV) operators from the service's developmental test squadron and operational test squadron recently learned to fly the Boeing MQ-25A Stingray unmanned in-flight refuelling tanker on a desktop-based simulator.
The four naval aviators participated in a three-day simulation training at Boeing's facilities in St. Louis, Missouri, designed to teach them to operate and fly the UAV "from start-up to shut-down", the US Naval Air Systems Command said on 30 October. When the MQ-25A is actually flown it will be piloted from ground-controlled stations or aircraft carrier-based stations.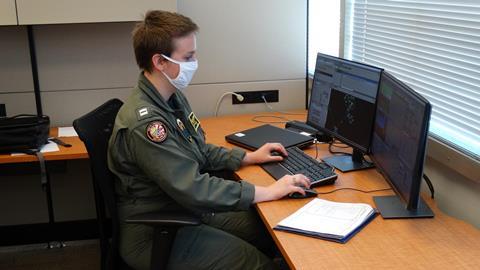 Though the MQ-25A is not yet in production, Boeing and the USN wanted to use flight data from an early prototype, the T1, to advance UAV operators' understanding of how the aircraft works.
"It helps when you get that side information from an experienced [operator] that adds to what's in the documentation. We were able to ask detailed questions and get clarification on what the checklists and commands are, and they let us know what to expect from the air vehicle," says Lieutenant Venus Savage, MQ-25A assistant operational test director. "It helps ingrain it in your memory because it's more than just book learning."
The flight simulations will also be used to solicit feedback from the operators, she says. "While there are still changes to be made, like with all developmental programmes, we're working together to create a better finished product," says Savage.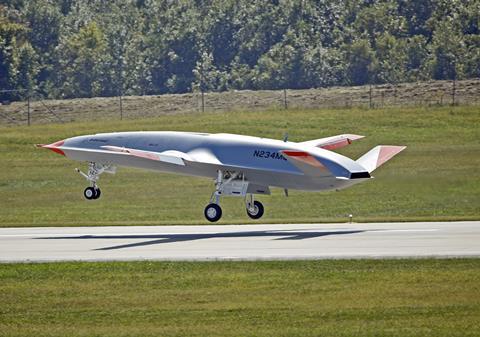 The T1 MQ-25A that Boeing has used to create its desktop-based flight simulator is a company-owned test asset that was developed before it was awarded the $805 million MQ-25 engineering, manufacturing and development contract in 2018 by the USN.
The company has flown the prototype about 30h since its first flight in September 2019. Boeing recently added an aerial refuelling pod to the UAV and is ground testing the aircraft with the addition prior to more flight tests.
The USN says its operators may return to serve as co-pilots when the T1 MQ-25A resumes test flights.