The US Navy (USN) is studying resupplying submarines and other ships over long distances using small unmanned air vehicles (UAVs).
Toward that goal, the Naval Air Warfare Center Aircraft Division acquired in October a Blue Water Maritime Logistics UAV prototype, made by start-up Skyways, to demonstrate long-range ship-to-ship and ship-to-shore cargo transport at NAS Patuxent River in Maryland, the service said on 9 November. The small UAV is to be customised for requirements set by military sealift operations.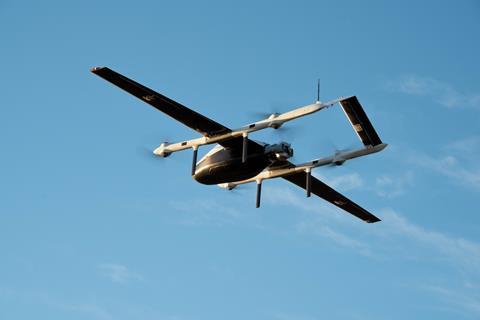 "This requirement is unlike other cargo requirements that online retailers like Amazon are exploring," says Blue Water project lead Bill Macchione. "Naval cargo transport requires vehicles that can successfully operate through difficult environments that include heavy winds, open water and pitching vessels at sea."
Skyways' UAV has a fixed wing, an internal combustion engine that powers a pusher propeller and four electric rotors for vertical flight. The service says it was selected because it was able to autonomously transport a 9.1kg (20lb) payload to a moving ship 21.7nm (40.2km) away without refuelling.
In 2019, the Skyways UAV demonstrated an autonomous resupply of a moving ship without knowing its position ahead of time. The aircraft's round trip was nearly 35nm and it carried a 9.1kg payload.
The USN plans to make a few modifications to Skyways' UAV. "We're excited to get to work on such innovations as folding wings for better handling and ship storage, a dual propulsion system that runs on both electricity and JP-5 [fuel], an internal versus external cargo capacity, and an automatic dependent surveillance broadcast identification system," says Macchione.
The USN believes using a UAV would be a more efficient vehicle for aerial resupply missions than the Sikorsky MH-60R Seahawk or the forthcoming Bell Boeing CMV-22B Osprey. Those rotorcraft are expensive to operate and are needed for other missions.
"Historic data from navy casualty reports show that warships that move to non-mission capable or partially mission capable status often do so due to logistics-related issues like electronics parts or assemblies – 90% of which are logistical deliveries weighing less than 22.7kg," says the USN.
After modifications, the Blue Water UAV will take part in additional experiments in the Atlantic Ocean with the USN's fleet in 2021. The service will then study and discuss the possibility of using the UAV to support naval operations.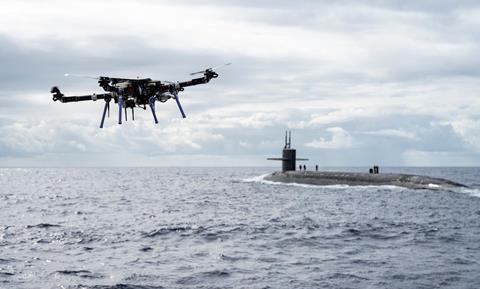 The Blue Water project comes after a separate experiment in October, during which the USN tested delivering cargo using a large quadcopter to the Ohio-class ballistic missile submarine USS Henry M Jackson near the Hawaiian Islands. That demonstration was designed to test and evaluate the tactics, techniques and procedures for expeditionary logistics, the service says. The delivery appeared to be a short hop from a ship within visual range and the USN did not disclose the weight of the payload.
The UAV used for the submarine resupply mission was made by Skyfront and is a hybrid-electric quadcopter called the Perimeter. Skyfront has not disclosed the performance specifications of the UAV.