US Special Operations Command (USSOCOM) has awarded AeroVironment a $26.1 million contract to purchase the company's Switchblade 600, a loitering munition effective against light armour.
The deal appears to be the first order for Switchblade 600 since the aircraft was publicly unveiled in October 2020.
AeroVironment is to deliver and integrate an unspecified number of the loitering munitions into unnamed "specialised maritime platforms" by January 2023, the company said on 27 April. Loitering munitions are a form of disposable unmanned air vehicle that contain a warhead and are used as a sort of tactical missile.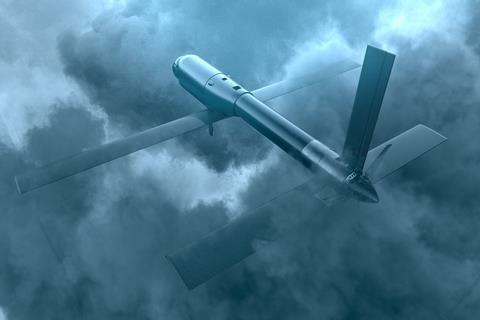 Switchblade 600 is man-portable and launched from a tube using compressed gas. The munition has a gimbaled electro-optical/infrared camera, range of 43nm (80km) and loitering endurance of about 40min. It can carry an anti-armour warhead and be piloted into targets, and can destroy stationary or moving lightly armoured vehicles, the company says.
"Integrating Switchblade 600 into combat platforms, such as the USSOCOM's specialised maritime vessels, enhances force overmatch, minimises warfighter exposure to enemy direct and indirect fires and accelerates the maturation of this innovative solution," says Brett Hush, AeroVironment vice-president and product line general manager for tactical missile systems.
The Switchblade 600 could be used against insurgents or to engage "peer and near-peer" foes, he adds.
Still unclear is which specialised maritime platforms the Switchblade will be integrated with. USSOCOM operates small boats, often near shore, including Mark V Special Operations Craft, which US Navy SEALS use for littoral patrol and force extraction and insertion.
USSOCOM has been a long-time customer of the smaller, anti-personnel Switchblade 300.
In March, the US Department of Defense announced that the UK would be the first foreign Switchblade buyer. It was not disclosed what type London was to buy, although AeroVironment announced the same month that it received its first US government approval for initial export of the Switchblade 300.