The US Air Force (USAF) has granted General Atomics Aeronautical Systems an Agile Reaper Enterprise Solution (ARES) contract, which pre-prices the MQ-9A Reaper unmanned air vehicle (UAV).
The five-year fixed indefinite delivery/indefinite quantity (ID/IQ) contract allows General Atomics to sell customers up to $7.4 billion worth of pre-priced MQ-9A aircraft.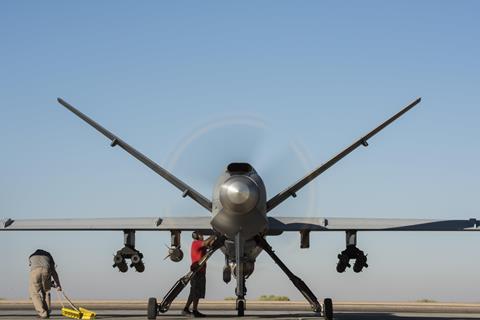 The contract appears to be similar to an ID/IQ contract the USAF granted to Lockheed Martin for standardised examples of its new-build F-16 Block 70/72 aircraft. That programme is designed to speed up the Foreign Military Sales process by eliminating back-and-forth negotiations in favour of a uniform price list.
The MQ-9A deal allows UAVs to be sold based on a pre-negotiated price-quantity-curve. "This curve allows the air force and Foreign Military Sales partners to unilaterally order between 4-36 aircraft in a single year," says the USAF Life Cycle Management Center's MQ-9 programme office. The contract also includes pre-priced mobile ground control stations, ground data terminals, spares and support equipment.
The ID/IQ contract will ultimately "stabilise costs, allow for the procurement of up to 36 aircraft per year in the same appropriation year, and reduce the time it takes to deliver the aircraft to operational units by approximately 35%", says the USAF.
"Prior to ARES, the standard contract award timeline was roughly 380 days," says Alicia Morales, aircraft production manager with the Medium Altitude Unmanned Aerial System programme office. "Now, once we have a budget, and it's in our account, we can award in just a couple of days and field the aircraft in 26 months."
The deal allows foreign militaries to buy the Dash 21 variant of the UAV, which is the NATO exportable version of the MQ-9A, adds the service.