The US Air Force (USAF) plans to start updating its fleet of General Atomics Aeronautical Systems MQ-9A Reapers with an automatic land-and-take-off capability starting in the spring of 2022.
The capability will come as part of the MQ-9's next software upgrade and will include a portable aircraft control station, the service said on 15 July.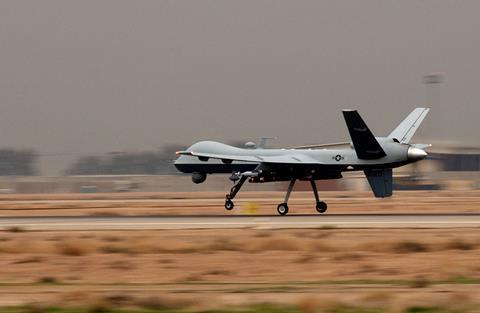 "Previously, MQ-9s could only land and take off if there was a local crew to line-of-sight link with the aircraft," says Lieutenant Colonel Nathaniel Totten, 49th Wing deputy commander at Holloman AFB in New Mexico. "With this new capability, an MQ-9 can theoretically land anywhere there is a runway large enough."
The new setup would allow aircrew to land or take off the unmanned air vehicle (UAV) remotely using a satellite link. The MQ-9 would also use the electro-optical and infrared cameras in its targeting pod to survey a prospective runway.
General Atomics Aeronautical Systems initially demonstrated the capability in 2018. The company has said it could be used in all weather conditions within the operational constraints of the aircraft. It also has said the capability enlarges the operational envelope of the UAV for crosswind operations.
"This event was significant as it is the start of a large change in the way we train MQ-9 pilots, and how many people we have to deploy," says Major Dustin Barbour, the 49th Wing commander's action group director. "It will likely decrease aircraft accident rates, which is already the lowest in the combat air forces, and potentially make the aircraft more agile for fights against near-peer competitors."
Take-offs and landings are mishap-prone phases of flight, often due to human error. General Atomics has claimed automation could help reduce these problems.
The ability of the MQ-9 to automatically land or take off could allow it to self-deploy, flying the extent of its 1,000nm (1,850km) range to airfields that do not have ground control stations and specialised personnel. That would be useful for the USAF's Agile Combat Employment strategy, an initiative to disperse aircraft on island airstrips across the Pacific Ocean in order to avoid having significant numbers of aircraft destroyed at once by Chinese cruise and ballistic missiles.
"Over the last decade the MQ-9 has been very effective flying, fighting and winning from fixed bases in the US Central Command area of operations," says Totten, noting the UAV's presence in conflicts over the Middle East. "Now, with greater reach and flexibility possible with automated take-off-and-landing, the MQ-9 truly matched the mission of the air force. Our adversaries have to contend with a very capable and elusive platform operating wherever the president calls on us to be."