General Atomics Aeronautical Systems plans to transfer two MQ-9A Reapers to the US Marine Corps (USMC) in late August.
The service is buying the unmanned air vehicle (UAV) for the first time as part of an effort to increase its intelligence, surveillance and reconnaissance (ISR) capabilities over the Indian and Pacific Oceans, where it is worried about the growing might of the Chinese military.
The USMC plans to disperse the UAVs on islands across the Indo-Pacific region.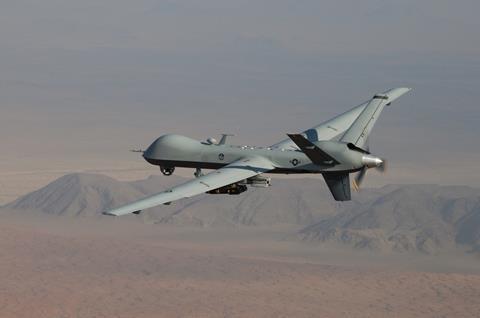 The UAVs are also being used to inform future requirements for the service's revamped MUX (Marine Air-Ground Task Force Unmanned Aircraft System Expeditionary) programme. MUX, an effort to buy a do-it-all vertical take-off and landing (VTOL) aircraft, was put on hold in 2020 after being deemed too ambitious.
General Atomics has operated the two incoming MQ-9As in Afghanistan on behalf of the USMC since 2018, the manufacturer said on 3 August.
The service plans to buy 18 MQ-9As, with additional UAVs to be acquired starting in 2022. It wants the Reapers to achieve early operational capability in 2023 and initial operating capability in the US Indo-Pacific Command by 2025, says General Atomics.
Under the MUX programme, the USMC envisioned buying an airborne platform that could be used for a variety of missions: early warning, electronic warfare, ISR, strike applications and acting as a command, control, communications and computers bridge. That UAV was to be able to fly at ranges that complement the Bell Boeing MV-22 tiltrotor and Lockheed Martin F-35 stealth fighter, and operate from a variety of ships and expeditionary bases.
In response to the service's vision, Bell proposed its V-247 Vigilant tilt-rotor and Northrop Grumman proposed its Tern tail-sitter. Neither aircraft made it off the drawing board.
Citing difficulty finding a manufacturer that could develop a UAV with the power and weight performance needed to handle a broad set of missions, the USMC opted last year to spread the MUX programme across a family of aircraft.
The USMC wants to use the MQ-9A to inform requirements for future long-endurance ISR aircraft within the MUX family. The Reaper has a flight endurance of more than 27h and can carry a variety of swappable sensor pods, and precision weapons.
General Atomics says the MQ-9A could play an important role as an early warning system that could track airborne and maritime threats, especially in areas within the Chinese military's reach. The UAV could be used to spot targets and then direct artillery, ballistic missile, cruise missile, hypersonic missile or aircraft strikes.