Platform Aerospace's Vanilla unmanned air vehicle (UAV) completed an eight-day, 50 minute and 47 second flight on 2 October at Edwards AFB in California.
The demonstration is being submitted for ratification as an official world record for the longest unrefuelled flight by an internal combustion engine-powered unmanned aircraft, the company said on 2 October. The Vanilla UAV's previous flight endurance record, set in 2017, was five days. Platform Aerospace says the aircraft is capable of flying up to 10 days.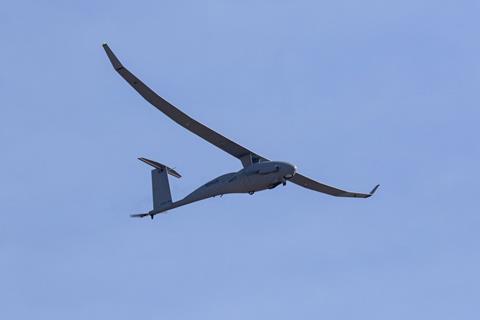 For the recent world record attempt, the UAV launched from Rogers Dry Lakebed in the Mojave Desert in California on 24 September and then for more than a week flew dozens of circuits, the equivalent of 10,600nm (19,600km), above Edwards AFB before landing. The aircraft carried a communications relay system and ballasts.
The record-claiming flight was the last in a series of demonstrations of the UAV conducted in coordination with Edwards AFB. Prior, the Vanilla UAV flew several flights of over 50h each, carrying two electro-optical/infrared cameras, two satellite communications relays for beyond-visual flight range operations, an unspecified "customer-proprietary radar" and a mesh radio system, says Platform Aerospace. The Vanilla UAV can carry up to 68kg (150lb) worth of sensor payloads across five internal bays and external mounts.
Platform Aerospace appears to be marketing Vanilla to the US Army as a group 3 UAV for tactical operations. Group 3 UAVs are classified as weighing between 25.4kg and 599kg.
The US Army is testing candidates for its Future Tactical Unmanned Aircraft System (FTUAS), the replacement for its Textron RQ-7B Shadow UAV. It wants that next-generation UAV to be capable of vertical take-off and landing (VTOL) and to conduct tactical intelligence, surveillance and reconnaissance missions.
"The notion that a tactical [UAV] must be VTOL and fly for less than 24h excludes a disruptive technology that could be fielded today," says Dan Edwards, Platform Aerospace chief technology officer. "The value of inexpensive multi-day, multi-sensor coverage is immense."
Platform Aerospace's UAV is not in the running for the FTUAS programme. However, the company notes that Vanilla can be launched without a runway from the back of a moving truck. The firm is also developing a VTOL version of Vanilla.
For long-endurance missions, the UAV is up against in-development solar-powered high-altitude UAVs, some of which are designed to fly for months at a time. Platform Aerospace says Vanilla is more manoeuvrable for tactical missions.
"Unlike solar-powered high-altitude systems, Vanilla is immediately responsive to operator tasking and flies at tactical altitudes, thereby accommodating smaller and lower cost sensors for the same [command, control, computers, communications, cyber, intelligence, surveillance and reconnaissance] value," the company says.
Platform Aerospace is also marketing Vanilla as "attritable", meaning it is cheap enough to be lost in combat and then affordably replaced. The company says the UAV is inexpensive to build and operate because it uses commercial off-the-shelf parts and has a modular design.
Correction: The article was updated on 6 October to clarify that the world record the Platform Aerospace is claiming for Vanilla is for unmanned aircraft