Will Roper, former chief of US Air Force (USAF) aircraft development and acquisition, has been named chief executive officer of Volansi, a start-up developing unmanned air vehicles (UAVs) for cargo delivery.
A former assistant secretary of the USAF for acquisition, technology and logistics between 2018 and January 2021, he joined Volansi's board of directors in March.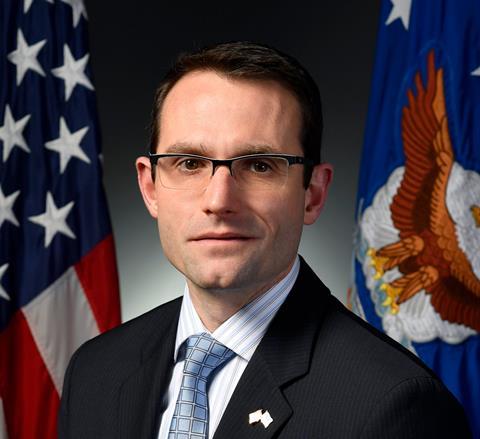 Volansi makes vertical take-off and landing (VTOL) delivery drones that can carry payloads up to 104kg (230lb). The UAVs take off using rotors and then fly forward on a wing with a pusher propeller up to 304nm (563km) in range, depending on the aircraft's payload and configuration.
The start-up is offering its UAVs for purchase to the US military, and as a service to the construction, oil and gas, mining and medical industries.
"The company's VTOL designs are well-suited for a range of commercial and military applications," says Roper. "It felt like a natural fit for me to bring my industry knowledge as well as operations and logistics experience to help create disruptive solutions for the transportation of medium to heavy weight payloads."
Since leaving work at the Pentagon, Roper has joined the boards of a number of other start-ups, including augmented reality pilot training company Red 6, helicopter hoist company Vita Inclinata Technologies and small rocket engine company Ursa Major Technologies. He was also named as a senior advisor with consultancy McKinsey & Company.
Within the USAF, Roper was known for championing the development of artificial intelligence, networked weapons and aircraft, hypersonic missiles and digital engineering.