Airbus has entered exclusive negotiation with Air France-KLM Group to set up a joint venture for global A350 component maintenance by the first half of next year.
The venture – envisioned as a 50:50 partnership – would offer supply-chain management, repair, and the establishment of a pool of components.
Airbus says the proposal would combine its specialist capabilities with those of Air France and KLM's engineering and maintenance arm.
Component assets from both companies would be transferred to the pool.
"We will be able to better respond to the needs of the market, and to guarantee the satisfaction of our customers over the long term, with support solutions that are always responsive, of high quality and at the right price," says Air France-KLM Engineering & Maintenance executive vice-president Anne Brachet.
Airbus says it would create an "optimised commercial offering", with broader reach and greater capacity, to meet the long-term maintenance demands of the A350 fleet.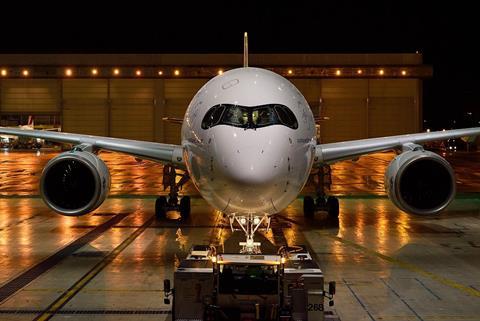 There are 550 A350s in service, according to the airframer's latest backlog figures, comprising 473 A350-900s and 77 of the larger -1000.
"As the world's A350 fleet grows, so does the necessary support," says Airbus senior vice-president for customer services Cristina Aguilar.
"Air France-KLM Engineering & Maintenance and Airbus have a long-standing relationship and pooling our complementary A350 component skills and capabilities will deliver an enhanced service."