Maintenance firm Sabena Engineering has taken control of a UK aircraft technical management company, Aircamo Group, to expand its capabilities.
Aircamo Group includes the Manchester-based Aircamo Aviation which specialises in airworthiness and asset management, as well as Aircamo Engines which handles off-wing maintenance and storage.
The company's engines division is located at Hawarden airport, near the Airbus wing plant at Broughton.
It has approvals for maintenance on various powerplants, among them the CFM International Leap and CFM56, Pratt & Whitney PW1100G, and Rolls-Royce Trent 700 and 1000.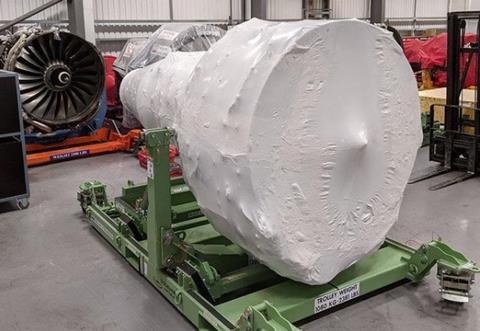 Sabena Engineering is taking a 70% shareholding in Aircamo Group, which was set up in 2015, although the terms of the transaction have not been disclosed.
The acquisition completes the range of services offered by Sabena Engineering, says executive vice-president for business development Gerrit Van Eycken, and "significantly expands" its ability to support customers.
"[It] will further strengthen the group's expertise in [continued airworthiness] and technical management operations in Belgium and internationally," he adds.
One of Aircamo Group's three founders, Mark Cooke, says the Belgian company has "enthusiasm, drive and vision" and represents and "ideal fit" for Aircamo's future plans.
Orizio Group, the parent of Sabena Engineering, recently expanded with the acquisition of Lufthansa Technik Brussels and Lufthansa Technik Maintenance International.