Bombardier has disclosed Entertainment Technology Partners chief executive Les Goldberg has become launch customer of the airframer's Challenger 3500 business jet, an in-development update to the Challenger 350.
The Montreal airframer announced the launch customer on the first day of NBAA in Las Vegas, where it is showcasing the recently launched Challenger with a cabin mock-up at the static display.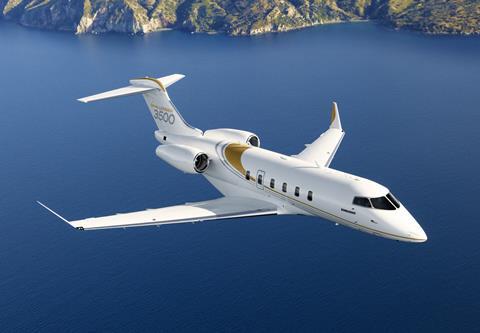 Goldberg owns a Challenger 350 and has now ordered a 3500. His company, Entertainment Technology Partners, is parent to a host of brands in the events and entertainment industry.
Bombardier has said it expects the 3500 will enter service in the second half of 2022.
News of the first Challenger 3500 customer comes just weeks after Bombardier revealed the project, on 14 September. On 30 September, the airframer disclosed that a separate customer had ordered 20 of the jets.
Welcoming the deal, Bombardier chief executive Eric Martel says: "What better way to celebrate our newest business jet than to showcase our beautiful interior mock-up and to be joined by our Challenger 3500 aircraft launch customer."