Textron Aviation has elevated its offering in the light and midsize business jet segments by launching updated variants of its Cessna Citation M2 and Citation XLS.
The Wichita airframer revealed the new "M2 Gen2" and "XLS Gen2" at the National Business Aviation Association's BACE event in Las Vegas today.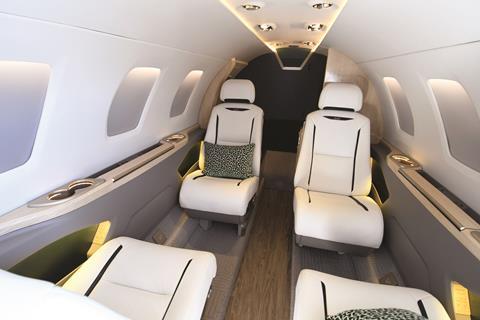 Textron is highlighting the jet's updates in cabin mock-ups located at Henderson's static display. Deliveries of M2 Gen2s will begin by the end of the first quarter of 2022, followed by XLS Gen2 deliveries starting by the end of the second quarter.
"The updates to the entry-level light jet and the midsize business jet usher in the next generation of aircraft design and technology, increasing comfort and productivity for passengers and pilots," Textron says.
"With the mindset that no detail is too small when shaping customer flight experiences, we've touched all areas of these aircraft to create the Citation M2 Gen2 and the Citation XLS Gen2 – from cockpit to cargo area and everywhere in between," says Christi Tannahill, Textron senior vice-president of customer experience.
Features new to the M2 Gen2 include wireless smartphone charging pads and USB-A ports at every seat in the cabin. The M2 Gen2's cockpit will also provide an additional 3in (7.6cm) of legroom for the co-pilot, and "cabin entry threshold materials have been improved for durability and maintainability".
"The M2 Gen2 brings the latest cabin amenities and technological advances often found in larger jets to the entry-level light jet segment," Tannahill says.
Cessna introduced the Citation M2 in 2013. The seven-passenger jet, powered by Williams International FJ44s, has 1,550nm (3,723km) of range and maximum cruise speed of 404kt (748km/h).
Updates to the larger Citation XLS Gen2 include a "new lighted air-stair door" and new entry curtain. The curtain provides better protection from inclement weather when on the ground and "improves cabin acoustics in flight," Textron says.
Textron also gave the XLS Gen2 a redesigned pedestal seat with "individual controls, new styling and optional quilting". The forward couch has the option to be folded down, allowing passengers to access baggage.
The company says the XLS Gen2 has an "intuitive wireless cabin management system" with a touch-screen moving map, wireless charging stations for personal devices and USB charging ports.
The aircraft also has an optional "immersive speaker-less sound system" from Bongiovi Aviation. That company makes a speaker-less sound system for Cessna's Citation Latitude and Longitude.