Berlin's airport operator has confirmed that Air France will conduct the last flight from the German capital's Tegel airport on 8 November – 60 years after the French flag carrier became the first civilian operator at the former military airfield.
Regular flights from Tegel will end on 7 November following the planned opening of Berlin's long-delayed new Brandenburg airport on 31 October. But Flughafen Berlin Brandenburg says that Air France agreed to operate a last special flight from Tegel on 8 November.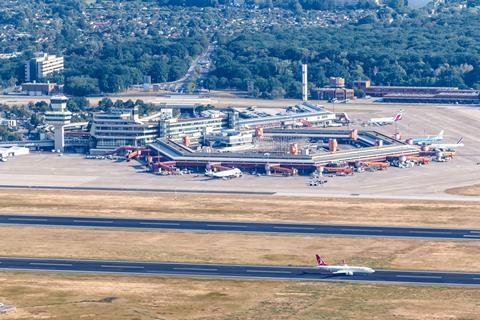 "Hardly any other airline than Air France is as closely associated with the long and eventful history of flight operations at Tegel," states FBB chief executive Engelbert Lütke Daldrup
An Air France Lockheed Super Constellation arriving from Paris via Frankfurt became the first civilian aircraft to land at Tegel in early 1960. The airfield northwest of the city centre subsequently became West Berlin's main gateway – replacing the former Tempelhof airport – as land-based westbound transport had to travel through former East Germany.
Until the German reunification in 1990, regular flights to West Berlin could only be operated by British, French and US airlines.
As such, Air France operated flights to West Berlin from West German cities – like other airlines – and its homeland.
The French carrier was among the first users when Tegel's current main terminal opened in 1974. The airline also operated the first regular scheduled Airbus A320 passenger flight between Paris and Tegel in 1988, notes FBB.
Ironically, Tegel's iconic, hexagonal terminal was designed by the same architect, Meinhard von Gerkan, as the troubled new Brandenburg airport.
Aged 30, von Gerkan – and his partners Volkwin Marg and Klaus Nickels – won first prize in a design competition for Tegel in 1965 with their proposal optimised for short-haul flights to West Germany and Europe – Tegel's sole purpose at the time.
Possible by the need for relatively small passenger numbers for each flight, the airport featured extremely short walking distances between land-side facilities and aircraft stands. The proposal was a breakthrough for the young architects and stepping stone in subsequently establishing an international practice.
One of the curiosities at Tegel is that the airport operator maintained until recent years stop marks for aircraft types that were decommissioned by airlines decades ago – the Boeing 707, British Aircraft Corporation One-Eleven and Sud Aviation SE 210 Caravelle.
Von Gerkan won again first prize for the design of the new Brandenburg airport in 1998. But the architect's website indicates that the commissioning was cancelled in 2003, reopened and finally concluded in 2005.
Construction of the new complex located south of Berlin's Schonefeld airport began in 2008, with the project undergoing several redesigns during construction.
A planned opening in 2012 was cancelled weeks before the inauguration amid concern over the main terminal's fire protection systems. This led to redesign and replacement of extensive building systems.
Multiple subsequent opening targets were missed. Meanwhile, FBB decided to build an additional terminal at Brandenburg and continue using Schonefeld as air traffic in Berlin grew beyond the unopened terminal's capacity.
In 2019, Tegel handled 24 million passengers, and Schonefeld 11 million.