Emirates passenger flights now account for approximately half the airline's daily frequencies but a bailout from owner the Dubai government will be needed "sooner rather than later", says airline president Tim Clark.
As the Dubai carrier expands operations, daily frequencies are now running at around 230 flights, which equates to around 40% the tally on a normal day before the coronavirus pandemic. However, half of the current frequencies are operating some form of cargo-only service.
"We operated 123 777s last week, and we had six of the 115 A380s flying – they're doing Paris and London. And we're trying to get the A380 into Toronto," Clark told FlightGlobal in an interview on 12 August. "Slowly but surely we trying to get ourselves back in. The golden rule is that no operation is allowed to go below the cash operating costs because we're trying to contain the outflow of cash."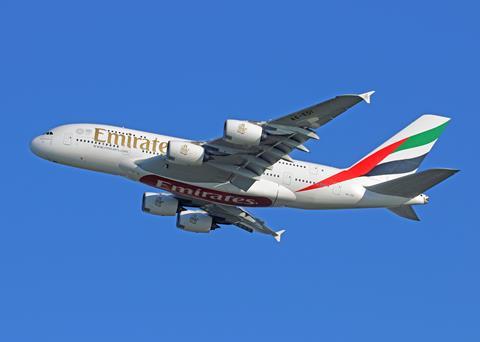 Clark is cautiously optimistic about the return of A380 services – which began on 15 July, saying that the loads are "quite solid, notwithstanding quarantine". He indicates that the decision has proved economically viable because "we can easily cover our operating costs and make a bit of money on that. It's also part of brand, it's part of the feel good factor we're trying to create."
Despite ongoing travel restrictions – which affect over 150 Emirates destinations currently – Clark says the airline is "probably the largest international airline operating today, driven by the continuing demand for cargo. So we're able to slip on passengers where and when we can.
"Surprisingly, we've managed to put in nearly $2 billion worth of cash sales since 1 April on cargo and limited passenger operations. So it's actually quite a good story."
Clark says that although Emirates is "holding our own", "we'll probably need cash from the shareholder sooner rather than later".
"The shareholder, Dubai, needs the airline – it's critical to its existence. So they're going to have to step up in the short term to help us out which they will do, no doubt. Then we'll get through it and we'll start putting cash back on our balance sheet."
Clark provides a breakdown of a typical Emirates day as an example of current operations: "We operated 229 sectors [on 11 August] – in a normally good day we'd operate 550.
"113 of those sectors were with passengers; 27 sectors operated by freighter aircraft; 75 sectors by passenger aircraft with belly cargo only, so you're getting about 30-40t; six sectors operated by passenger aircraft with cargo loaded on seats and in overhead bins; eight sectors operated by passenger aircraft with economy seats removed carrying belly cargo and cabin-floor loaded cargo.
"So we're stuffing cargo into every bit of volumetric space top and bottom and it's worked quite well for us," he says.