European air navigation body Eurocontrol sees "huge challenges" for the region's air traffic network this summer when it comes to matching capacity with demand, even as it projects economic headwinds are likely to prevent a full recovery to pre-pandemic flight activity until 2025.
Eurocontrol had in its June outlook expected a full restoration of flight activity in Europe to occur during 2024. However, in an October outlook it put that back to 2025 under its base scenario as a result of economic headwinds and capacity challenges in European aviation this coming summer.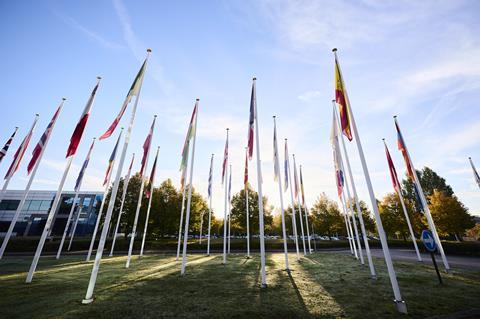 It has reiterated this view in a fresh review of 2022 and outlook for the year ahead.
"The recovery to 2019 levels is now expected to take place during 2025 – one year later than forecast in June 2022," it says. "The base scenario is based on GDP remaining weak for most European states, inflation (including the jet fuel price) impacting demand, and lower passenger confidence/propensity to fly on economic grounds."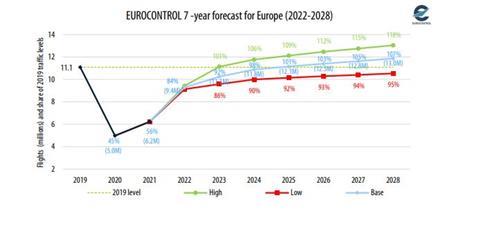 While its more optimistic higher-case scenario – which assumes higher GDP growth, a lower impact on demand from inflation and stronger passenger confidence – envisages pre-pandemic levels reached as soon as this summer, Eurocontrol notes that its base scenario has so far proved the most accurate trajectory since the pandemic hit.
A lower-case scenario, which includes the potential for the periodic re-imposition of Covid-related travel restrictions, would not see parity in flight activity with 2019 reached until 2028.
European flight activity across 2022 stood at 83% of pre-pandemic levels, but strengthened as the year progressed and has been consistently at 86-88% since May.
Eurocontrol's base scenario is for European traffic to recover to 95% of pre-crisis levels in the coming summer, and be at 92% for 2023 as a whole.
However, it warns that getting closer to pre-pandemic traffic levels will not be easy. "As 2022 showed, ramping up back to close to 90% of 2019 traffic over the summer caused all actors immense difficulties," it says, highlighting staffing and capacity across the aviation ecosystem, exacerbated by the economic fallout from Russia's invasion of Ukraine.
This impacted flight delays and punctuality during the year, particularly in the busy summer period. Eurocontrol reports all-causes departure delays over the first 11 months of the year increased from an average 13.1 minutes per flight in 2019 to 17.6 minutes per flight in 2022. That averaged 22.2 minutes per flight over the summer.
"While staffing issues may progressively be solved, the risk of industrial action in response to economic conditions is rising," Eurocontrol says. "With sadly no end in sight to the war in Ukraine, airspace unavailability will continue to disrupt flows and put pressure on certain sectors.
"This will further exacerbate demand for airspace, as airlines take delivery of new aircraft and restore capacity, and demand from the key Asian markets progressively returns following China's decision in December 2022 to ease travel restrictions and reopen to international air travel. And planned system changes will also impact flows and capacity.
Eurocontrol concludes: "All of this means that 2023 is set to be the most challenging year for the network in terms of matching capacity with demand, and keeping delays down."
In December, European airports body ACI Europe pushed back its projections for a full recovery in passengers in the region until 2025.