Pipistrel's Velis Electro has become the first all-electric aircraft to secure certification anywhere, following European Union Aviation Safety Agency (EASA) approval for the two-seat type on 10 June.
Development of the aircraft – a variant of the Virus SW 121 – took less than three years, says EASA, which attributes this relatively short timeframe to "close co-operation" between the Slovenian airframer and the agency, and a "common goal of ensuring the aircraft met the high standard of safety needed for certification".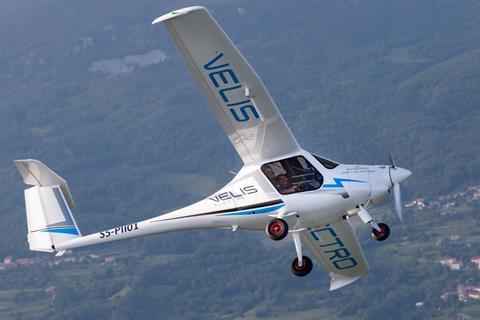 EASA says the Velis Electro "also brought important learnings that will support future certifications of electrically powered engines and aircraft".
Patrick Ky, EASA executive director, describes the approval as "an exciting breakthrough".
"This is the first electric aircraft EASA has certificated, but it certainly won't be the last, as the aviation industry pursues new technologies to reduce noise and emissions, and to improve the sustainability of aviation."
The Velis Electro is powered by a 76hp (58kW) liquid-cooled, Pipistrel E-811 electric engine – developed with Slovenian engineering companies Emrax and Emsiso, and approved by EASA on 18 May – driving Pipistrel's three-bladed, fixed-pitch composite propeller.
Maximum take-off weight is 600kg (1,320lb), offering a payload of 170kg, a cruise speed of 90kt (170km/h), and an endurance of up to 50min.
"Type certification of the Velis Electro is the first step towards the commercial use of electric aircraft, which is needed to make emission-free aviation feasible," says Ivo Boscarol, founder and chief executive of Pipistrel. Validation will prove to other aircraft developers, that "type certification of electric engines and aeroplanes is possible".
Pipistrel says the Velis Electro "can be operated commercially and is fully approved for pilot training". It plans to deliver over 30 examples this year "to customers in seven countries".