Collapsed Slovenian flag-carrier Adria Airways' air operator's certificate is set to be auctioned on 23 January, and the administrator for the bankrupt company is formally inviting bids.
The invitation says the lot being presented for auction effectively amounts to the whole business of Adria, in particular all permits to operate air services – including the AOC.
It warns that the buyer will need to obtain other required licences before commencing commercial air transport, in accordance with European Commission regulations.
The buyer must also be prepared to "remedy" at its own expense any legal "discrepancies" arising from previous decisions by Slovenia's civil aviation authority to suspend the carrier's certificate, it adds.
Bidders will be expected to offer a starting price of €45,000 for the assets under auction, increasing by €500 steps. The auction will take place at the Adria Airways office in Ljubljana airport, says administrator Janez Pustaticnik.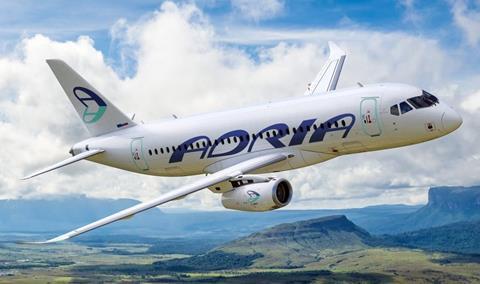 There is evidence that interested bidders will include investors linked to a plan to use premium-configured Sukhoi Superjet 100s, fitted with 56 seats, to compete against Lufthansa and Swiss on routes to Zurich, Munich and Frankurt.
This plan, according to a representative for the investor group, would also use 87-seat Superjets to offer flights to holiday destinations, including locations in Austria.
Adria Airways had previously embarked on a plan to lease 15 Superjets but last year abandoned the strategy after the tentative agreement failed to evolve into a firm deal.