UK start-up Vertical Aerospace will unveil the production version design of its electric vertical take-off and landing (eVTOL) aircraft in late August, as it sets sights on European certification and service entry of the five-seat type in 2024.
The Bristol-headquartered firm is keeping details of the design, which carries the project name VA-1X, under wraps for now, but a teaser shot of the eVTOL on Vertical's website shows a winged aircraft with four propellers and a V-tail.

"We are making good progress with the aircraft's development and our plan is to unveil the design toward the end of August and begin building the first prototype later this year," says Vertical Aerospace chief executive Michael Cervenka. The aircraft is scheduled to make its first flight in 2021 with a pilot at the controls.
Since its launch in 2016, Vertical has flown "dozens" of scaled models as well as a full-scale, remotely piloted multi-rotor technology demonstrator called the Seraph, which has undergone extensive flight-testing at a base in North Wales.
"All these designs have incorporated off-the-shelf hardware and systems to test their handling and flying qualities," says Cervenka. This includes Honeywell-supplied fly-by-wire and flight-control systems.
He says Vertical has formed a "strong and productive" strategic partnership with the US aerospace giant, with the pair announcing in early August that Honeywell will also supply the flightdeck technology for VA-1X – including multi-touch displays, avionics system controls, avionics software and the vehicle operating system.
Vertical has been funded to date by its founder, UK entrepreneur Stephen Fitzpatrick, but Cervenka says the company is now seeking to raise £30 million ($39 million) in capital to fund the VA-1X through to its first flight.
"We launched this initial funding raise early in the year, but had to put it on hold when Covid-19 hit a lot of venture funds," says Cervenka. Interest in the programme is now returning, he adds, and Vertical is holding discussions with several financial and strategic investors which are "keen to explore opportunities in the sustainable technology market".
Around £150 million will be required to bring the eVTOL to market in 2024.
"We expect to attract more investment once VA-1X has made its first flight, we have proven the technology, raised our profile and established the market demand for this eVTOL," says Cervenka.
Vertical predicts output of some 800 VA-1Xs annually by 2030 "with a potential to get up to the low thousands very quickly", Cervenka says. The aircraft will serve the intercity passenger transport market on routes of up to 80nm (150km), as well as the nascent urban air mobility sector, providing intracity transport and airport shuttles on routes of up to 20nm.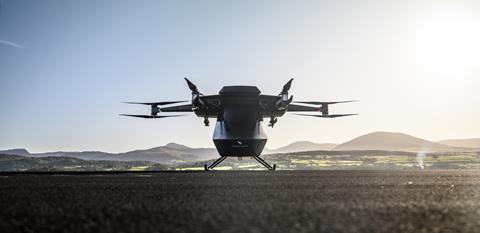 The UAM segment will be fuelled by what Cervenka calls "an exponential growth" in the urban population over the coming years.
A recent study by German research company Roland Berger predicted that 70% of the world's population will live in cities and towns by 2050 – up from 50% today – with population size expected to outstrip ground transportation capacity by over a third.
"The potential for this new wave of small electric vehicles is huge and we plan to be an early mover," says Cervenka.
As well as passenger transport, the VA-1X will be targeted at cargo, utility and air ambulance operators and the company says services will initially be supported using existing landing sites such as private and commercial aerodromes, airfields, airports and helipads.
"The ground-based infrastructure will be developed as the fleet grows, and the airspace will also be adapted to accommodate this new wave of aircraft," says Cervenka.
Key to success of UAM, he adds, is gaining public acceptance on this new mode of transport. "They must be accessible to the masses and not just a small number of very wealthy individuals, so we plan to make the cost per mile as low as we can," says Cervenka.