Geoff Murray, a partner with consultancy Oliver Wyman, looks at why getting carriers back into service at the end of this crisis could run up against a perhaps unexpected obstacle: a shortage of simulator capacity for pilots
Airlines are combating the Covid-19 crisis by parking aircraft, reducing or eliminating capital expenditures and costs, and – unfortunately – laying off employees.
Some of those employees are pilots, who need to maintain qualifications through mandated training – a process that can be more difficult during any downturn.
The current economic challenge is not only likely to be more severe and protracted than previous downturns, but unique, in that it will significantly stress training infrastructure, both while airliners are parked and even more so when traffic returns.
The volume of training, especially if attempted over a short time period during recovery, could stretch the industry's training capacity like never before – potentially delaying airline relaunches.
The unprecedented nature of the crisis – and eventual recovery – could create a demand for pilot training that outstrips capacity in three ways.
First is whether and how furloughed pilots can maintain their currency to be qualified to fly again when needed. Pilots who are eventually recalled but who have lost their currency would need to be requalified, a process that can be akin to hiring a brand-new pilot into the airline. And with significant numbers of pilots likely to furloughed, this demand could be unprecedented.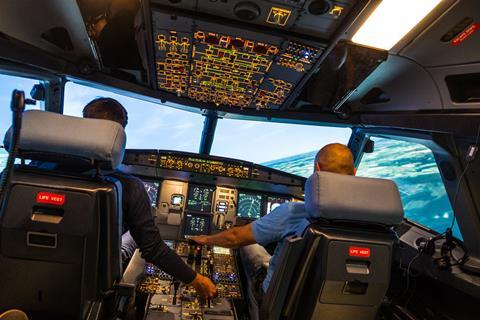 A separate surge of training events could arise at airlines with multiple fleet types and whose pilots are represented by labour groups or even under often-restrictive individual contracts. The combination of seniority-based furloughs and parked aircraft creates a mismatch: some pilots who are not subject to furlough may not be qualified on still-flying aircraft and could require transition or 'downgrade' training to a different aircraft or seat.
The result is a cascade of senior pilots shifting to different and often smaller aircraft types and seats. These senior pilots would displace more junior pilots who are then subject to furlough.
During recovery, as aircraft are reintroduced to airline fleets, the process will reverse and result in greater training requirements for both furloughed and non-furloughed pilots. Some airlines we have spoken with believe this is a large risk, potentially creating a need to train virtually every single pilot to fly a new aircraft type.
Further, depending on the timing of the return to service of the Boeing 737 Max, some airlines could face a perfect storm aggravated by the additional training that the Max is likely to require.
As airlines look toward recovery, simultaneously managing pilot training demand and capacity must be a priority. To manage demand, some airlines already have taken steps to compensate pilots not to fly – thereby preventing a cascade of displacements. Others have offered voluntary leave or early retirement packages.
Airlines also can look to take creative and in some cases unprecedented steps; for example, collaborating with unions to make furlough rules more flexible. Options could include allowing pilots to work and train part-time to maintain currency or easing seniority rules around pilot reassignment.
Other, more provocative solutions could permit pilots to fly multiple fleets simultaneously. Fortunately, airline leaders are in a privileged position to pull multiple levers to work with flightcrews, ones not available in other professions. They will need to think well outside of normal parameters.
In a similar vein, flight operations departments should stay closely aligned with fleet and network planning departments. It will be crucial that these teams share information as they develop and adjust recovery plans. In a similar way, regional airlines will need to stay aligned with their code-share partners, to ensure they have the right fleets and pilots available.
Lastly, airlines may want to secure additional training capacity. Airlines should consider if now is the right time to mint new flight instructors or even acquire additional simulator capacity. And as airlines look to raise cash, the notion of divesting flight training infrastructure should be thoughtfully reviewed.
Carriers, especially those that can reliably commit to a large volume of training, might consider partnering with training companies. Training facilities where simulator time has rapidly transitioned from precious asset to common commodity may welcome commitments from more financially stable airlines. Airline holding companies with multiple carriers in their portfolio could consider sharing training capacity across their subsidiaries.
To be sure, airlines are still responding to the pandemic and full recovery will be some time coming. But flight operations departments would do well to 'mind the training bubble' and start planning ahead, to help carriers emerge from the crisis more quickly.
Geoff Murray is a partner with Oliver Wyman, the global business consultancy