Factors unique to aerospace and defence – including strong demand for new passenger aircraft and surging military spending – should keep those industries humming through tough economic times, argues Alex Krutz.
It might be assumed that the US and European aerospace and defence (A&D) industries will, like other sectors, suffer amid economic downturns in the USA or Europe.
But the opposite might be true. Factors unique to aerospace and defence – including strong demand for new passenger aircraft and surging military spending – might keep those industries humming through tough economic times.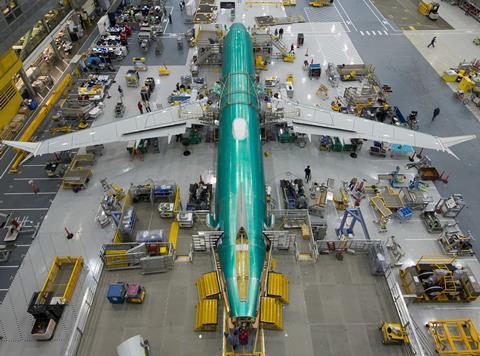 In recent months, economic cracks have surfaced in the USA and Europe, with figures trending toward recessions. In late July, for instance, the US government reported that the country's gross domestic product contracted 0.9% in the second quarter, following a first-quarter contraction of 1.6%.
Some observers have called the changes a "transition", arguing the US economy is adjusting to post-Covid conditions. But, historically, economists define recessions as periods of at least two consecutive quarters of economic contraction.
At the same time, inflation is surging, at 8.5% in July, down from 9.1% in June – a roughly 40-year high. Rising prices are following two years of US federal stimulus, which increased the monetary supply available for a set amount of goods.
Other macroeconomic factors roiling the US economy include rising oil and gas prices, a steep stock market downturn (though markets have rebounded somewhat) and rising interest rates, which the US government hiked by 0.75 basis points in both June and July, the largest increase since 1994. True, the US dollar remains strong, but that means higher prices for imported goods, which could reduce demand and consumer confidence.
The EU's economy is little better, growing only .7% in the first quarter. Europe has been particularly affected by the Russia-Ukraine conflict, which spurred economic sanctions and a steep decline (up to 80%) in Russia's supply of natural gas to the bloc. Some economists predict a prolonged Russia-Ukraine conflict could further decrease Europe's GDP by 2%.
To make matters more complicated, China has recently locked down some cities as part of its zero-Covid policy, furthering supply-chain disruptions that have rippled globally.
Such factors are already impacting some industries, among them the automotive sector. Tesla, for instance, recently announced it is cutting 10% of its workforce. Ford, Volkswagen, and BMW have also announced workforce reductions. Economic malaise will likely affect other sectors, such as property, technology and consumer products.
TRAVELLERS RETURN
This economic trend may seem concerning to the A&D industry as well, since it was negatively impacted by recessions in 2001, 2008 and 2020. Air travel has also historically moved in line with macroeconomic trends.
But this time may be different. The sector might be insulated due to increased defence spending – also a factor of the Ukraine conflict – and strong demand for both air travel and new aircraft.
Airlines have recently reported strong demand for travel, as countries eliminated pandemic border restrictions and travellers rebooked previously cancelled leisure and business trips. With no signs demand is faltering, travellers with discretionary income will likely continue booking air tickets even as airlines hike fares.
Higher fuel prices, which have surged 90% since the beginning of 2022, may act as a brake. But if history is an indicator, airlines will likely respond by placing orders for new, more-efficient aircraft – to the benefit of Airbus and Boeing. Such demand for new jets will allow those airframers to maintain high production rates, benefiting the rest of the supply chain.
The defence sector stands to benefit from increased military spending. For instance, the US Congress this year approved a record-setting defence budget of $810 billion, up from last year's $773 billion. And as a good representation of Europe, Germany raised its recent defence budget to be more than 2% of its GDP – a big figure for Berlin. The increase likely reflects instability from the Russia-Ukraine conflict.
Executives at some companies, including Embraer and Dassault, have likewise recently predicted that Russia's war with Ukraine and China-US tension will continue driving up defence spending globally.
Of course, many unknown factors remain, including just how severe the US and European economic downturns might be. But it appears that the A&D industry is well place to ride out this recession.
Alex Krutz is managing director at Patriot Industrial Partners, an aerospace and defence advisory firm that focuses on manufacturing strategy and supply chain optimisation. Follow him on LinkedIn.