The Pentagon's plan to offer a commoditised version of the Lockheed Martin F-16 could help propel the world's best-selling fighter aircraft to new heights, but it remains to be seen if foreign customers will put aside their fondness of fancy custom features.
In August, the US Air Force (USAF) awarded Lockheed an indefinite-delivery and indefinite-quantity (IDIQ) contract, with a $62 billion ceiling. The contract sets up a standardised configuration for the F-16 Block 70/72, along with a standardised price list. A sort of bureaucratic innovation, Lockheed says the idea came out of the USAF's System Program Office.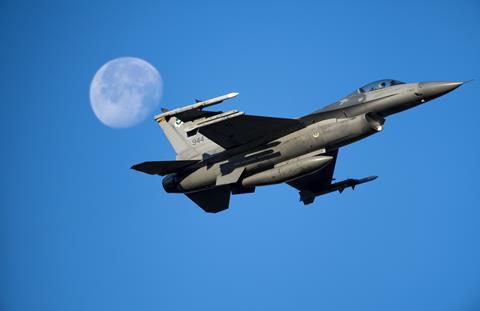 Lockheed has already secured two contracts via the IDIQ totalling 90 aircraft: 66 examples for Taiwan and 24 for Morocco.
Though IDIQ deals for MRO contracts are quite common, the commoditisation aspect of the F-16 scheme appears to be novel. (Lockheed could not confirm that this is the first time in US history that such an approach has been tried.)
In theory, a base model F-16 would be easier to buy because a foreign military, the US government and Lockheed would not have to engage in a back-and-forth price negotiation, which costs significant amounts of money and time. Uniform pricing is a tried-and-tested practice in the civilian world that has lowered transaction costs – and sped up sales – for everything from candy bars to laptop computers.
Fighter jets are not consumer electronics or chocolates, however. The aircraft preferences of air forces can vary from country to country for perfectly sensible reasons, but also vain and impractical ones. For example, many nations, such as F-16I operator Israel, prefer special subsystems and weapons to deal with local threats. Other air forces – particularly those run by autocrats – load up their aircraft with every bell and whistle imaginable in fanfares of nationalistic pride. And moreover, almost every foreign military demands some sort of offset, a requirement that sometimes compels aircraft manufacturers to integrate local technologies.
Lockheed says that additional customisations, above and beyond the base model configuration, will be handled by a separate contract. That would allow it to maintain most of the standardised pricing, but make one-off customisations when needed. The extent to which those secondary contracts would cancel out the simplicity of the base model contract remains to be seen.
Still, the USAF is not slowing down to find out. The service told FlightGlobal in February at the Singapore air show that it is working with General Atomics Aeronautical Systems to create a base model MQ-9 Reaper unmanned air vehicle as well.
Commoditised aircraft configurations will not trump the things aircraft buyers care about most: price and performance. However, the concept would be the latest example of US aerospace manufacturers having a go-to-market edge because Washington runs a savvier arm sales programme than its rivals in Russia, China and Europe.
Moreover, being able to close sales faster than adversaries could smooth the USA's efforts to expand its network of allies and foreign partners. That is because fighters, which are followed by long-term pilot training and MRO contracts, as well as the need to be periodically upgraded, typically bind nations together for decades. These quick-and-easy contracts might pay dividends for years to come.