Airbus has started capitalising on communications technology and amended logistical procedures to enable delivery of aircraft remotely, allowing it to continue handing over jets to customers despite the restrictive measures imposed by the coronavirus crisis.
Turkish budget carrier Pegasus Airlines has received three Airbus A320neo-family jets through the remote process – dubbed 'e-Delivery' by the airframer – which combines a delegated technical acceptance completion with an electronic transfer-of-title, before the aircraft is picked up for ferry, either by the customer or a third party.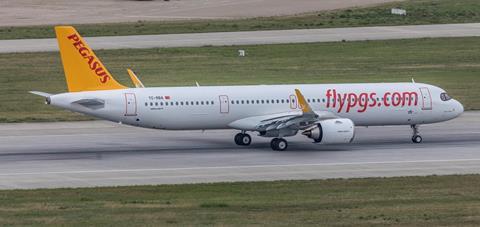 "Business continuity is not just a buzz-word," Airbus head of contracts delivery Alain Vilanove tells FlightGlobal. "It's a reality to Airbus."
Vilanove says the airframer had been using the electronic transfer-of-title capability for some 45-50 deliveries over the past year.
But with government restrictions and changes to working practices obstructing routine deliveries, leading to newly-completed aircraft being parked, Airbus has incorporated this capability into a broader 'virtual' end-to-end process.
Vilanove believes the efficiency and cost-savings of the 'e-Delivery' scheme – through reduced travel and accommodation expense, and eliminating the need for customers' key personnel to leave their workplace – mean it is likely to become a regular option, even after the crisis passes.
"We've seen a trend. We're going to use this tool more and more," he says. Vilanove envisions a substantial proportion of deliveries, perhaps 30% or more, being conducted remotely within a couple of years.
"I personally don't see a negative side to this," he says, although he acknowledges that some customers might still prefer the social engagement that accompanies deliveries.
Technical acceptance is the first stage of the formal process and the customer can delegate this aspect to Airbus through the final assembly line customer manager. Completion includes ground checks, acceptance test flight and documentation, and – if necessary – any cosmetic refinements.
Vilanove says a customer's willingness to allow this work to be conducted remotely illustrates its "ultimate proof of trust" in the airframer.
The technical acceptance is a condition of transfer-of-title, which is undertaken through a secure collaborative sales contract platform.
"This brings them all together, wherever they happen to be, into one real-time virtual environment where they can optimise and simplify all the contractual transactions," the airframer states.
The process allows paperless drafting of delivery documentation up to, and including, the digital signature for transfer-of-title – without the need for any of the customer's own personnel to be present at the Airbus delivery facility. This is particularly valuable given the quarantine requirements implemented by several countries' governments.
But the aircraft, sanitised as part of the delivery, still needs to be flown to the customer's base and this is carried out through a pick-up by an inbound crew – either the customer's own or third-party pilots – with procedures which follow the current health-and-safety guidelines.
"We want to offer a totally contained process from arrival to departure," says Vilanove.
He says aircraft deliveries are taking longer than usual, because of the changes in working practice, but that the 'e-Delivery' scheme under normal circumstances should be able to offer customers a smoother and more efficient delivery process and become the "blueprint" for future handovers.