Airbus deliveries for the final month of last year indicate that the airframer has yet to restore the smooth production rates it achieved in the first half of the decade.
While December has typically been relatively busy in terms of Airbus output, it managed to keep the proportion of deliveries for the month to around 10-14% from 2010-15.
But technical snags and industrial problems which emerged as the manufacturer embarked on its transition to the A320neo family in 2016 have tended to force a backloading of deliveries.
It has recently been striving to overcome production complexities relating to the A321neo.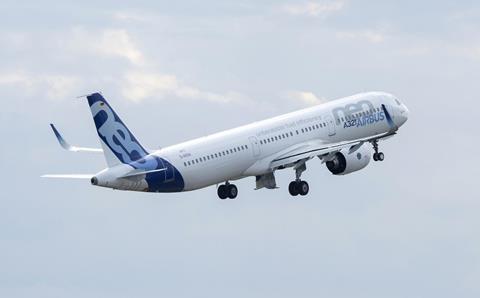 Airbus handed over 16% of its 863 deliveries for 2019 during December, a figure which rises slightly to 16.1% when discounting the effect of A220 production.
This is above the figure of 15.3% – again adjusted for the A220 – from 2018, revealing that the backloading proportion actually increased rather than fell.
Not only was the proportion higher, but the increase in production rates meant that it equated to a greater number of aircraft in 2019 than the same proportion would have covered in 2018.
The December 2019 delivery level is below the 17.7% of December 2017 but similar to that of December 2016, showing that Airbus – for the fourth year running – has been forced to deal with an intense end-of-year rush.
Airbus delivered 138 aircraft in December 2019 including seven from the A220 line.
Its annual numbers contest with Boeing, however, was effectively no contest as its US rival remained affected by the fallout from the 737 Max grounding. Boeing delivered just 35 aircraft in December 2019.