Airbus has revealed cancellations for 33 A350s, all the -900 variant, in its end-of-year backlog revision.
Analysis of the airframer's figures indicate eight aircraft have been struck from Hong Kong Airlines, whose A350 commitment has fallen from 13 to five – three of which have already been delivered.
Synergy Aerospace had 10 A350s on order but all 10 appear to have been removed from the backlog.
The company had originally ordered 10 A350-800s more than a decade ago, for its OceanAir operation, before switching to the -900.
None of the aircraft has been delivered.
Airbus has also revealed that 15 A350-900s have been removed from the batch of 23 aircraft allocated to unidentified customers.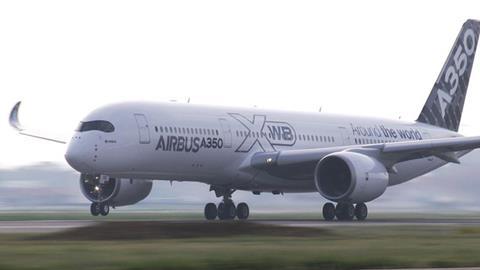 Removal of the 33 aircraft in December 2019 follows cancellations of 46 A350s earlier in the year – with Etihad Airways accounting for 40.
Airbus logged gross orders for 101 A350-900s during 2019. The 79 cancellations left it with a net year-end figure of 22.
It also secured gross orders for 12 A350-1000s last year which, after Etihad's axing of two, left Airbus with a net total of 10 – bringing net orders for the A350 family to 32.
These took total A350 programme orders to 926, comprising 750 A350-900s and 176 A350-1000s.