Airbus has cut the first metal for the initial A321XLR and completed selection of suppliers for the long-range aircraft's key components.
The A321XLR, an evolution of the A321neo, was unveiled at the Paris air show last year and is intended to operate across a range up to 4,700nm.
Airbus has cut the first metal for the centre wing-box at its Nantes facility while French aerospace firm Safran, which is responsible for nose- and main landing-gear, has commenced production of undercarriage forgings.
The aircraft is "moving from concept to reality", says the airframer which plans to begin flight-testing the A321XLR in 2022.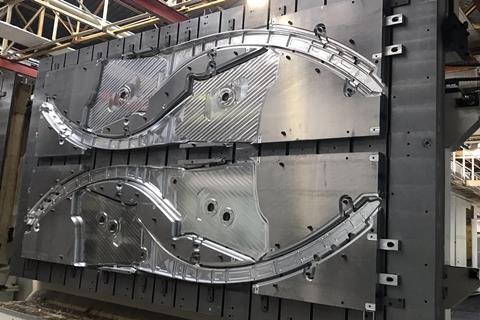 Premium Aerotec will manufacture the primary structure for the aft centre fuel tank crucial to the variant's extended range, one of several suppliers newly chosen to produce structures specific to the aircraft.
US firm Spirit AeroSystems will build the inboard single-slotted flap, Austria's FACC will produce a modified belly fairing, while Collins Aerospace and Parker Aerospace will lead the development of the fuel system and tank inerting measures.
The new structures will be validated through a demonstrator programme which will feature the centre and aft fuselage sections – known as sections 15 and 17 – and integration of the new tank and other components.
Airbus says tests for cabin comfort on long-range operations are already under way, using a climatic chamber, but adds that an equipment demonstrator will enable trials of different systems in a wooden mock-up.
"This approach minimises design clashes, as well as optimising ergonomics," says the airframer.
Airbus will refine the A321XLR ahead of industrialisation by taking advantage of a digital design, manufacturing and services approach to generate "virtual factory" simulations and validate ramp-up planning.
The coronavirus crisis has forced Airbus to rethink production rates across its jet range and suspend development of an additional A321neo assembly line, stationed in Toulouse, but the airframer has insisted that planning for the A321XLR is continuing.
Some 450 of the long-range variant are on order from 24 customers, and the twinjet is due to enter service in 2023.
Airbus says the supplier selection, completed in March, also includes Triumph Group for landing-gear uplock, Diehl Aviation for water systems, and Vincorion for heated floor panels.