Tupolev Tu-154 chief designer Alexander Shengardt's death, aged 95, in early September closed the era of the Soviet Union's most prolific airliner programme, leaving Russia still struggling to replicate the workhorse trijet's success.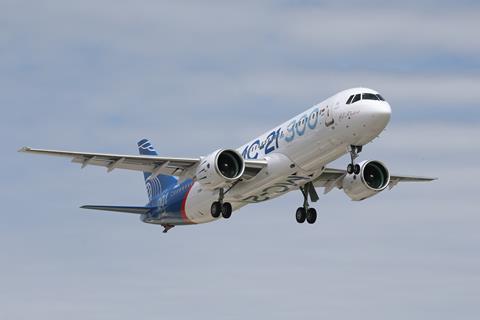 Over 1,000 Tu-154s were assembled, a four-figure production run comparable to those of the Boeing 757 and McDonnell Douglas MD-80 despite its relatively limited market for export. Some 150 were sold abroad.
Shengardt, who held his position for 36 years, had notably overseen the pioneering development of low-maintenance operation and internationally-approved technical documentation for the aircraft.
Under political pressure from industrial sanctions, the Russian government is trying to rebuild some of that former Soviet aerospace glory, retreating from international co-operation in favour of an import-substitution initiative for its latest civil aircraft.
Official Russian procurement documentation shows a steady stream of tender invitations for various equipment – avionics, life-rafts, passenger cabin control systems – to replace foreign equivalents on its Irkut MC-21.
Irkut has been hoping to fly its first MC-21-310 – the designation of the twinjet with domestically-built Aviadvigatel PD-14 engines – before the end of 2020. The airframe has already undergone a technical engine installation for preliminary checks.
Recent procurement requests for the Western-powered version – the MC-21-300, with Pratt & Whitney PW1400G engines – include testing of noise levels for the powerplant and work on type certification documentation, signalling that the variant is slowly edging towards completion of its flight-test campaign.
Four PW1400G-powered MC-21s are undertaking flight tests. The latest to join the fleet (73056) is fitted with an all-economy configuration equating to 211 seats, whereas its predecessor (73054) had a two-class cabin with 163.
The twinjet's engines underwent water-ingestion testing, using its second flight-test airframe (73053), during ground runs in mid-July.
Irkut claims firm orders for 175 aircraft. Aeroflot remains the primary customer, with firm orders for 50 plus 35 options, but certification and deliveries are unlikely until 2021, particularly given the added complication arising from the coronavirus pandemic.
Import substitution is under way for the Superjet 100, which has been absorbed into the Irkut portfolio, to produce a 'Russified' version, called the 'SSJ New', by 2023.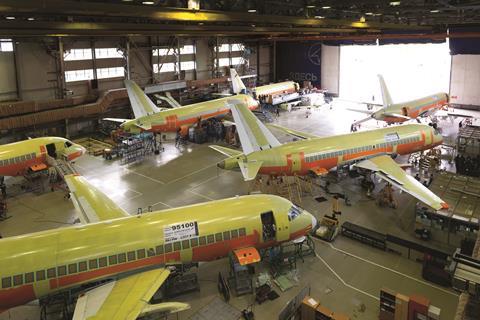 Irkut has been testing the KRET BINS-2015 inertial navigation system, using a prototype Superjet, to replace the Honeywell Laseref V system fitted to the type.
Tests will start next year on other domestic systems which will be integrated into the SSJ New, including oxygen equipment to cope with depressurisation and a vibration-control system for the aircraft's engines.
Russian state technology firm Rostec's aerospace divisions are supplying multiple components including a different landing-gear assembly. It says the landing-gear will have enhanced damping and control, for a more "comfortable" touchdown.
Testing has already started on the SSJ New's air-conditioning and cooling system, which moderates hot engine air, for cabin pressurisation and temperature control.
"Research carried out during the development process has revealed possibilities for improving [the system], reducing the weight and increasing its heating and cooling capacity," says Viktor Tyatinkin, general director of the system's supplier, Teploobmennik.
Irkut is also looking to improve the Superjet's flight performance as part of the SSJ New project.
Russia's other near-term programme is the resurrection of the Ilyushin Il-114 as a modernised 68-seat regional turboprop, the Il-114-300, ground tests and engine runs for which commenced in September ahead of taxi trials and the flight campaign.
Low-power runs of its Klimov TV7-117ST-01 powerplants were carried out at Ilyushin's Zhukovsky flight-test base.
Il-114 programme director Maxim Kuzmenko says the installation of all systems and equipment has been completed, pointing out that these modern systems – most of which have been designed by Russian suppliers – represent the aircraft's "innovative component".
The fuel system has been tested and operation of the engine was performed "in real conditions" for the first time, says United Aircraft's Ilyushin division.
Manufacture of a second prototype, using serial production techniques, is being undertaken at the Lukhovitsy plant of RAC MiG, near Moscow. Fuselage mating of this aircraft is being finalised at the automated assembly rig, to be followed by tail and wing attachment.
Deputy technical director of the Lukhovitsy plant Artyom Sukach says the assembly technology enables high-precision work – including alignment within hundredths of a millimetre – accompanied by a reduction in preparation costs.
The Il-114-300 is being manufactured through a co-operation between several aerospace plants including Aviastar, VASO, and MiG's Sokol facility, as well as Lukhovitsy.
Aviastar produces fuselage panels and doors, while VASO's output includes the wing, tail and engine nacelles.
United Aircraft intends the Il-114-300 to succeed Soviet-era Antonov types including the An-24 and An-26, as well as foreign models in the same category. It envisions the turboprop operating primarily in the domestic market, and offering connectivity to remote regions in Siberia and eastern Russia.
The Il-114-300 will have digital avionics and, says Rostec aviation industrial director Anatoly Serdyukov, will be "one of the most promising models in its class", with an 800nm (1,500km) range.
He adds that the turboprop is a "completely domestic" aircraft, the product of a "broad co-operation" between Rostec's aerospace manufacturing companies – adding that it will be "unpretentious", able to operate from unpaved, short runways and even Arctic ice strips.
How commercial airliner programmes and their manufacturers have dealt with crisis
1

2

3

4

5

Currently reading

Russia strives to create local supply chains for its modern airliners

6