Between its huge order backlog and the fact that its customers' only alternative, Airbus, is booked solid for years, restarting Max production is just the first hurdle for Boeing
US leasing firm Aviation Capital Group was bestowed last year with the dubious honour of being the final customer to take delivery of a Boeing 737 Max before the type's grounding.
It acquired the aircraft on 11 March 2019 and, as result, was the only company to receive a 737 Max after the Ethiopian Airlines accident that sparked Boeing's greatest commercial air transport crisis.
Aviation Capital Group is based in Newport Beach, California, practically next door to Long Beach, where Boeing – two decades before 737 production became embroiled in the Max saga – once considered assembling its ubiquitous single-aisle jet to simplify the 737 lines at its Renton plant.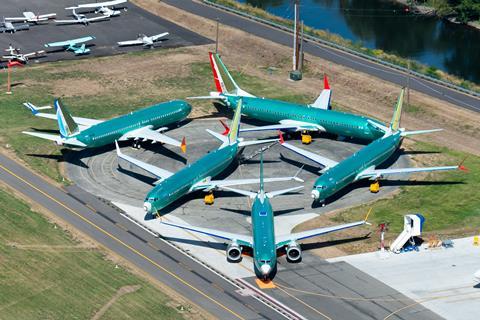 The lessor's acquisition took total Max deliveries to 387 in the 665 days from when the first was formally handed over – to Lion Air Group's Malindo Air division – in May 2017.
Boeing's backlog for the re-engined Max family has stayed remarkably stable over this period, despite the highly publicised problems, barely wavering from a figure of just over 4,500 aircraft attained by the time of the grounding. When deliveries came to a halt, Boeing continued to take a small number of orders, including a deal for four aircraft just six weeks into the suspension.
A total of 37 post-grounding Max jets have been ordered – the largest identified carrier being Turkey's SunExpress for 10 aircraft, while an undisclosed customer is taking 20 – but Boeing has also notably received encouragement from British Airways parent IAG after the company provisionally agreed to take 200 of the Max 8 and Max 10 variants.
The steadiness of the backlog is probably a consequence of customers not wanting to lose their place in the production queue, given that there are few alternative avenues through which to source new single-aisle jets.
"It might look like a paradox but, in the short term, we don't benefit from the situation with [Boeing]," said Airbus chief executive Guillaume Faury during a briefing in Toulouse on 13 February.
Airbus is trying to smooth production flow for its A320neo family and cut through a similarly voluminous backlog, which stood at more than 6,180 aircraft at the end of January – close to 10 years' output at Airbus's current rates. "We cannot take benefit for the A320," says Faury. "We are sold out until roughly 2025 and therefore we cannot step in to offset the needs of some airlines."
Neither is Airbus gaining on the margin side from the 737 Max situation, adds chief financial officer Dominik Asam. "When the backlog we are currently executing for 2020‑2021 [was] locked in for the single-aisle programme, that was way before the grounding of the 737," he says. "So prices for that time-frame are fixed."
While the rivals' five-figure combined backlogs will ease the immediate sales pressure, the suspension of 737 Max production in January places a complex burden on Boeing as it strives to secure recertification of the aircraft. The US airframer cut monthly Max production from 52 to 42 aircraft per month after the grounding, maintaining this reduced rate for several months before the January halt and parking the undelivered aircraft.
Powerplant supplier CFM International had expected to produce 1,800 Leap engines last year, including the 737 Max's Leap-1B, taking into account this reduced Max production rate.
Aerostructures firm Spirit AeroSystems, however, had continued to produce the Max's fuselage at the monthly rate of 52, with Boeing paying for those in excess of its moderated 737 Max output.
Spirit also agreed to store and maintain excess fuselages – primarily at Boeing's risk – at its own facilities. Both Boeing and Spirit had intended this arrangement to last until the beginning of May 2020. The production rates suggest Boeing has built more Max jets since the grounding (around 400) than it had delivered beforehand – none of which it has been able to hand over to customers.
Boeing's production stoppage in January led to a revised agreement with Spirit under which the supplier would provide fewer fuselages, just 216, this year. This covers barely one-third of the 605 fuselages it delivered in 2018, and appears to put Boeing at least four years behind its ramp-up schedule for the re-engined jet.
Spirit had been undergoing a transition to Max production in 2018, bringing the monthly fuselage output up to 52, while also coping with a design which, it says, is 35% different from previous 737 variants built on the same fuselage assembly lines. Its revised pact with Boeing – which depends heavily on the Max's reintroduction to service – shows that Spirit "does not expect" a return to the pre-grounding 52-per-month rate until late 2022.
Boeing had been intending to raise monthly Max production to 57 aircraft last year, but the new Spirit agreement means this hike will probably be delayed until the end of 2023 – and possibly later.
Spirit had been preparing for the higher rate by alternating daily output between two and three fuselages, to practise for a constant three-per-day rate, pointing out that a rate of 57 meant it would have three "balanced" production lines, each turning out 19 fuselages monthly, with "built-in surge capacity". But the manufacturing halt and delayed introduction of this increased production rate means deliveries of hundreds of aircraft that were contracted to be built and delivered over the next three years will need to be deferred.
While the Max backlog could undergo a restructuring as a result of airlines' reassessing their fleet requirements – as a consequence of economic cycles or unexpected developments, such as the Chinese coronavirus outbreak – Boeing still faces a daunting and costly reorganisation effort, requiring modification of aircraft already delivered, as well as those undelivered, and renegotiation of delivery arrangements for aircraft yet to be built.
"We recognise we have a lot of work to do," new Boeing chief executive David Calhoun acknowledged during the airframer's full-year results briefing at the end of January.
"We are focused on returning the 737 Max to service safely and restoring the long-standing trust that the Boeing brand represents with the flying public."
Adapting the aircraft, recovering production rates, compensating customers and resuming normal service are a matter of logistics, engineering, finance and mathematics. Boeing's most challenging task, arguably, is to rebuild its own reputation as well as that of the 737, its most successful aircraft family, so badly tainted by the debacle of the Max.