Airline safety dipped in 2018 on the back of 14 fatal accidents – six of which involved large passenger jets – in which 543 people were killed, analysis of FlightGlobal data shows.
That compares with 2017, in which there were 12 fatal accidents causing 56 deaths, and the best-ever year – 2015 – which saw only nine fatal accidents resulting in 176 casualties.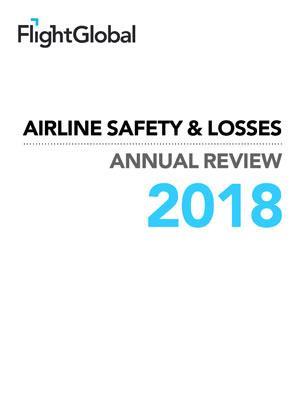 However, although the headline figures are worse than seen in the previous three years, they are still impressive compared with fatal accident numbers in the period before 2015.
A troubling feature of 2018 were the half-a-dozen fatal crashes involving large passenger jets. In the previous year, the only fatal accidents involved relatively small turboprop-powered aircraft, or freighters.
Although the high number of passenger and crew deaths in 2018 reflects the size and capacity of the aircraft that crashed, in three out of the six fatal jet mishaps only one passenger was lost, with all their other occupants surviving. That included the only accident in the USA - involving an in-flight engine failure aboard a Southwest Airlines Boeing 737-700.
In the remaining three jet fatal accidents, however, very nearly all on board were killed and, in addition, two of the turboprops that crashed catastrophically were also high-capacity aircraft.
But the greatest shock of the year was the loss in late October of a new 737 Max operated by Indonesian carrier Lion Air, in which all 189 people on board died when it dived into the sea near Java.
Other significant fatal accidents of jet-powered types last year included the take-off crash of a Global Air 737-200 in Cuba in May, resulting in 109 fatalities, and the February loss of a Saratov Airlines-operated Antonov An-148 in which all 71 occupants were killed.
Supporting documents
Click link to download and view these files