Operators of Boeing 737 Max jets are being instructed to check a subcomponent of the engine control system for potential corrosion, which could result in reduced thrust control.
The 737 Max family is exclusively powered by CFM International Leap-1B engines.
As a result of the near two-year grounding of the type, and the continuing impact of the pandemic, the world fleet has been exposed to prolonged periods of inactivity.
The European Union Aviation Safety Agency says that, following the extended storage, corrosion has been detected on several pressure subsystem transducers.
EASA says this could lead to loss of engine thrust control and is directing operators to conduct a one-time operational check and replace any affected parts.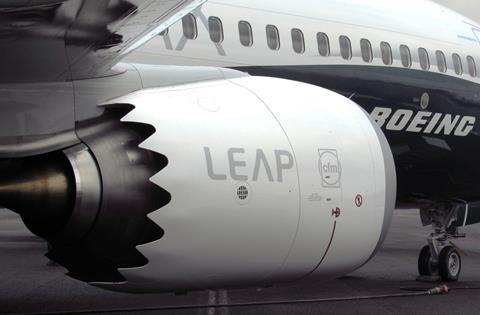 CFM has issued a service bulletin to operators to address the situation and EASA is ordering, for certain engines, the one-time check following a minimum power-on time, or repetitive checks of pressure subsystem maintenance messages.
Specific details of the checks required depend on whether the aircraft has already completed an operational readiness flight, in preparation for return to service.
EASA's directive also covers any affected 737 Max jets delivered after 18 November – the date on which the US FAA authorised the resumption of flights with the type.
Earlier variants of the 737, fitted with CFM56 engines, had previously been subject to inspections ordered by the US FAA last year after corrosion of bleed valves in parked aircraft was suspected in a number of powerplant shutdown incidents.