Airbus Canada has revised the A220 flight operations manual to emphasise the correct setting of thrust levers during departure, after a series of incidents in which the autothrottle did not engage on take-off.
The revision also includes a new pilot call-out to check correct engagement of the autothrottle.
Operators of A220-100s and -300s are being advised by Transport Canada to incorporate the changes into their procedures, and adapt training programmes to include the new instructions.
Investigation into a July 2018 incident at Porto involving a Swiss A220-300 found that the crew had not advanced the thrust levers sufficiently to activate the autothrottle during the take-off roll.
The levers must be pushed at least to 23° – the equivalent of about 68% of N1 engine speed – else the autothrottle remains in its armed state.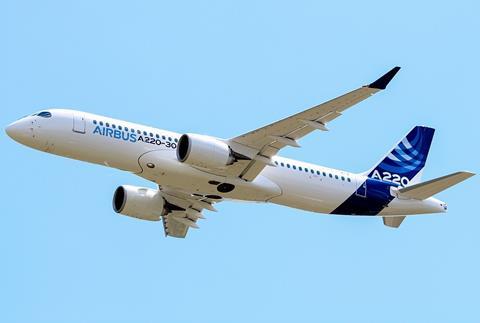 Transport Canada points out that, if the thrust levers remain below this threshold, the spoilers will activate above 60kt, dumping the lift, and the autothrottle will change to 'hold' mode.
"There is no engine indicating and crew alerting system message to indicate the status of the [ground lift dump]," it adds.
During the Swiss A220 incident at Porto the pilots had not noticed the autothrottle's failure to engage, nor were they alerted to the subsequent automatic spoiler deployment.
"One of the things that the flight crew must check is that the required take-off power is set when exceeding a speed of 80kt," stated Swiss investigation authority SUST in its inquiry.
"Neither of the pilots could remember whether they had executed this check."
Only when the captain took account of the remaining runway length at about 90-100kt did he realise the thrust was set too low and pushed the throttles forward.
The spoilers retracted and the aircraft lifted off about 1,000m from the end of the runway, after a ground run 50% longer than the calculated take-off distance.
SUST investigators uncovered five other incidents within six months, over the course of February-July 2018, in which the engine take-off power on the type was not set properly. In four of these incident, the inactive autothrottle went unnoticed by the crew.
Along with the April 2021 flight operations manual update, says Transport Canada, Airbus is issuing revised training instructions to improve crew management of the autothrottle as well as understanding of the spoiler control logic during take-off.