Airbus A220 operators are being instructed to remove certain full-authority digital engine control software, and install a new version, after a series of engine failures involving fracture of low-pressure compressor rotors.
Four such incidents have been registered, says the US FAA in a directive for the type's Pratt & Whitney PW1500G powerplant.
Three of the incidents, last year, involved Swiss aircraft while the fourth, last month, affected an Air Baltic jet.
Analysis has indicated that low-pressure compressor vane schedules were generating a condition within the engine that led to "acoustic resonance" and damaged the stage-one rotor, says the FAA, leading to its failure.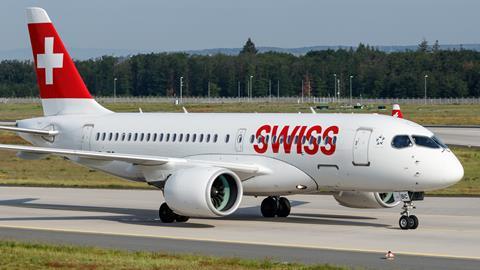 Interim action had already been ordered for A220s – including limiting thrust at high altitude – to protect the aircraft against uncontained engine failure.
But the analysis of the vane scheduling has prompted a revision of the FADEC software intended to avoid the resonance phenomenon.
The latest directive instructs operators to remove certain FADEC software earlier than version V2.11.9.2 and install an update.
Engines which have accumulated less than 300 cycles must be modified within 15 cycles, others within 90 days.
The FAA states that the failures of the stage-one rotors occurred on engines which had been shipped to operators as spares, and were not delivered installed on aircraft. Failures occurred within 300 cycles of their subsequent installation.
Spare engines which have been newly fitted to aircraft carry the "highest risk" of rotor failure, the FAA adds.