Airbus is aiming to introduce a revised radio altimeter after US investigators determined a logic glitch contributed to an A321neo tail-strike at Los Angeles.
The Hawaiian Airlines aircraft had been conducting an overwater approach, in visual conditions, to Los Angeles's runway 06R on 13 August 2018.
According to the National Transportation Safety Board's final report, publicly released on 3 June, the crew received automated '100 above' and 'minimums' call-outs – which are based on barometric altitude – but no call-outs from the radio altimeter.
Airbus had warned operators in the previous six months about "abnormal behaviour" from a new radio altimeter during approaches over flat water, stating that height information might not be available.
FlightGlobal understands that the radio altimeter featured a new inhibition logic intended to avoid erroneous data while overflying other aircraft.
But it introduced a glitch while overflying a flat-water surface, such as lakes or calm seas, below 5,700ft.
If no terrain is overflown before the aircraft descends to 500ft above ground, the radio altitudes are not recovered before landing.
This means that, although the Los Angeles 06R approach involves crossing the Pacific coastline and overflying about 1km of land before reaching the runway, an aircraft on a typical 3° glideslope is already below the height threshold.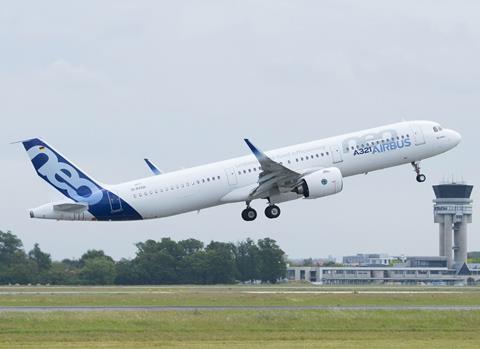 The inquiry found that, during the approach, the crew turned off the ground-proximity warning system – as directed – after receiving a 'fail' message at about 1,500ft above ground.
But as the aircraft descended through 50ft the first officer, who was flying, realised that the electronic automated altitude call-outs were not being provided.
The inquiry says he "did not have time to react" and the aircraft touched down "firmly" before bouncing. Its pitch attitude increased before the first officer could intervene and its tail struck the runway surface.
Subsequent inspection of the aircraft (N204HA) revealed damage to the aft fuselage underside, deformed stringers, tie clips and frames. None of the 190 passengers and seven crew members was injured.
The aircraft, powered by Pratt & Whitney PW1100G engines, was relatively new, having been delivered to Hawaiian Airlines just eight months earlier.
Airbus, which had provided operators with procedures in the event of radio altimeter unavailability, has indicated that a new altimeter standard will be available from early 2022.
Collins Aerospace, the manufacturer of the radio altimeter, has been contacted for comment.