Nigerian investigators have determined that a Middle East Airlines Airbus A330-200 crew vainly attempted to skirt round an incorrectly-parked Boeing 777-300ER, instead of stopping and requesting guidance, before the two aircraft collided.
The Turkish Airlines 777 had not been moved to the correct gate position at Lagos, and was left obstructing the taxiway, when the A330 crew tried to pass.
After deviating from the taxi line and continuing to travel, the A330's left-hand winglet cut into the auxiliary power unit exhaust of the 777.
Nigeria's Accident Investigation Bureau says the 777 (TC-LJC) had arrived as a freight flight on 29 July 2020 – a few months into the pandemic – and been directed to the cargo ramp.
But there was no available parking position on the ramp and the twinjet was instead reassigned to the international apron, parking at gate E55.
Procedures for handling passenger aircraft at the airport differ from those for cargo flights, the bureau says, but the ground-handler, at the time, did not have any approved procedures for handling cargo aircraft at the international apron.
Normally a marshaller would guide a passenger aircraft, under its own power, to the parking stand and stop it before the designated marker point for the type, whereupon ground-handling personnel take over and tow it to the marker.
"In this case, this was not done," says the bureau.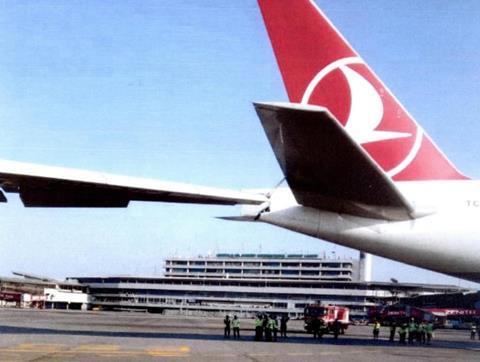 Examination of the incident scene showed the 777 was still 13.5m short of its designated marker, and obstructing taxiway F3, when it parked.
The A330 (OD-MEA), parked at gate E51, pushed back and started travelling along F3 for runway 18R, intending to depart for Beirut.
Its crew noticed the 777's protruding tail and decided to steer off the taxi line, by 6.5m to the right, to avoid a collision.
This clearance was not sufficient and the A330's winglet damaged the 777's APU area as well as its horizontal stabiliser.
"The crew of [the A330] should not have deviated from the leading yellow line when in doubt of safe taxiing behind the parked [777]," the bureau concludes.
"They should have instead stopped the aircraft and requested [from air traffic control] a wing-walker or a tow truck."