Airbus A350 crews are temporarily being given a revised procedure for altitude selection after occurrences of inadvertent height deviation, traced to incorrect manufacturing of the altitude selector dial.
The European Union Aviation Safety Agency says incidents of "unwanted" altitude changes by the auto flight system have emerged.
It states that a failure of the altitude selector dial, located on the flight control unit, can change the target altitude by either 100ft or 1,000ft depending on the chosen interval setting on the ring behind the selector knob.
Although the erroneous altitude is shown on the instrument panel and the pilots' primary flight display, EASA says it "may not get noticed by the crew".
Investigations indicate that these events resulted from an "incorrect manufacturing process" on the altitude selector knob optical encoder, it adds.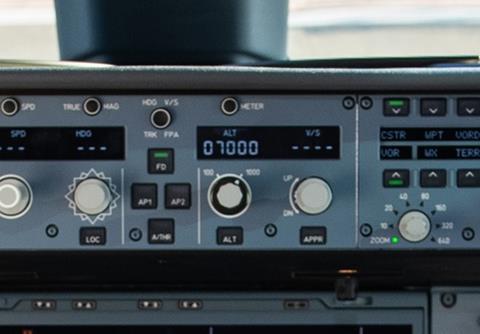 Erroneous target altitudes could result in unexpected deviation of the A350's vertical trajectory during climb, descent or a go-around.
Airbus has temporarily revised crew procedures in relation to use of the altitude selector, to limit the effect of uncommanded changes.
It has also developed a new flight control unit standard which has been introduced into production. EASA is directing A350 operators to replace the flight control unit on the type with the updated version within 25 months.