Airbus A350 operators have been ordered to define a "liquid prohibited" zone in the cockpit, after two incidents in which beverage spillages on the centre pedestal led to in-flight shutdown of a Rolls-Royce Trent XWB engine.
FlightGlobal exclusively revealed last month that a liquid spill had preceded a Delta Air Lines A350 shutdown and diversion on 21 January, and that a spill on an Asian carrier's A350 was suspected to have resulted in a similar shutdown and diversion last November.
In an emergency directive the European Union Aviation Safety Agency has warned that inadvertent spillage on the engine-start panel or electronic centralised aircraft monitor panel – both located on the pedestal – could potentially result in a dual engine shutdown.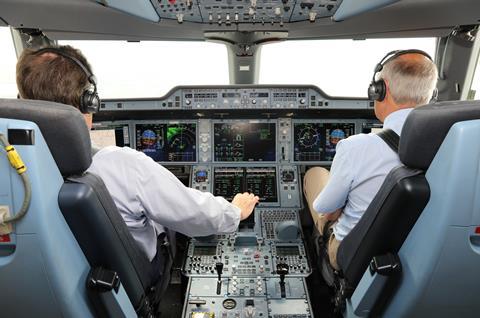 Preliminary technical investigation, it says, indicates "abnormal operation" of components in the panels resulting from the spillages. Uncommanded shutdown followed "some time" after the spillage and subsequent engine relight attempts were not successful.
Airbus has published a temporary revision to the aircraft's flight manual, dated 4 February, defining a "liquid prohibited zone" for the cockpit and the procedures to be followed in case of a pedestal spillage.
It has also published an operator communication reminding airlines about standard practices for handling liquids in the cockpit.
EASA has ordered A350-900 and -1000 operators to include the revision in the flight manual, adding that the directive is an interim action and further instruction could follow.