Pilots of a Singapore Airlines Airbus A380 incorrectly acted on a turn instruction during a go-around at Sydney, turning left instead of right and creating conflicts involving other traffic, investigators have determined.
The aircraft (9V-SKQ) had aborted an ILS approach to runway 16R at about 1,000ft owing to windshear, as it arrived from Singapore on 9 February last year.
Air traffic control acknowledged the go-around and instructed the aircraft to turn right onto a heading of 270° and maintain 3,000ft.
But the crew had been expecting a left turn – in order to avoid weather and traffic to the west of Sydney – and believed they heard an instruction to turn left.
The first officer, the monitoring pilot, gave an "incomplete" readback, says the Australian Transport Safety Bureau, adding that the controller missed this opportunity to correct the misheard order.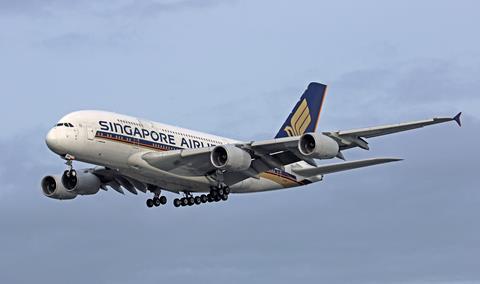 By turning left the A380 crossed the approach path of the parallel runway 16L. The controller queried the aircraft's course and told the crew to turn onto a heading of 060°.
The A380's manoeuvres resulted in its coming into conflict with a Bombardier Dash 8 on approach to 16L, the crew of which was instructed to make a right turn to maintain separation from the jet.
This, in turn, resulted in loss of separation between the Dash 8 and a Boeing 737 which had been approaching 16R, the minimum distance reducing to 2.6nm horizontally and 1,300ft vertically.
Investigators state that the A380 crew was experiencing a "significantly higher" level of workload owing to the weather conditions and the go-around due to windshear.
The missed approach procedure required the crew to reconfigure the A380 in less than 1min and the pilots did not expect to receive an air traffic control instruction – one which was contrary to expectation – until the procedure was completed. These elements probably contributed to the misheard instruction, the inquiry says.
It adds that incomplete readback, in the absence of correction, will be perceived by most crews as "implicit confirmation".
Singapore Airlines reminded crews of the importance of correct readback, following the incident, and highlighted strategies to manage high workload.