Investigators have disclosed that attempts to probe an Antonov An-124's short landing at Riyadh reached a dead end owing to an absence of information.
The aircraft (UR-ZYD), operating for Ukraine's Maximus Airlines, had been arriving at the Saudi Arabian capital after a service from Bechar in Algeria on 15 January last year.
But as it approached runway 15L, it touched down some 172m from the threshold, damaging the approach lights, according to Ukrainian air accident investigation authority NBAAI.
The authority has disclosed the event in its newly-released annual review of incidents for 2022.
"Information on the extent of damage to the aircraft was not received from the operator," it states, but says the aircraft rolled out along the runway and taxied to its parking bay.
Neither the air traffic control service nor the airport operator was notified by the crew about the incident, and information only emerged the following day when Riyadh airport service personnel discovered broken approach lights, and clear traces of aircraft wheel tracks before the threshold.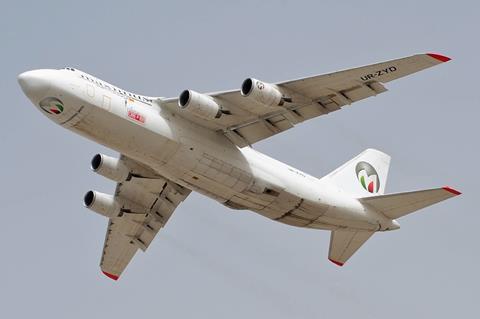 Analysis of the tracks showed the aircraft not only landed short, but also 11m to the left of the extended centreline of the runway.
"The tracks gradually shifted toward the centerline of runway 15L as they approached the runway threshold's green lights," says NBAAI.
"Further inspection revealed broken glass and lamp debris next to the wheel tracks, which were located in the direction of the runway axis."
Saudi Arabian accident investigators' examination of surveillance video and radar data managed to identify the Maximus An-124, which had been operating flight MXM3726 and touched down at 00:16 local time on 15 January.
But NBAAI says that, after this preliminary field work, the inquiry faced a number of "problems", including the absence of formal notification by the crew or the operating organisation, and the fact that the aircraft departed before the cockpit-voice or flight-data recorder could be accessed.
As a result, it states, an investigation under the framework of ICAO's Annex 13 was "impossible."
FlightGlobal has sought comment from Maximus Airlines. The heavy freighter was originally delivered to Dubai Air Wing in 2004.