Operators of an airbridge punctured the fuselage of an Embraer 190 at Copenhagen, ironically after re-attaching it to allow the crew to check there had been no damage from a pushback tractor encounter.
The aircraft, operated by Finnair's Nordic Regional Airlines, had arrived on stand A11 on 7 February this year.
It was met by an airbridge which had been automatically pre-set for the aircraft type during initial docking. The final stage of docking was performed manually.
After the airbridge was attached the passengers disembarked and the next group of passengers filed on board, before the airbridge was removed.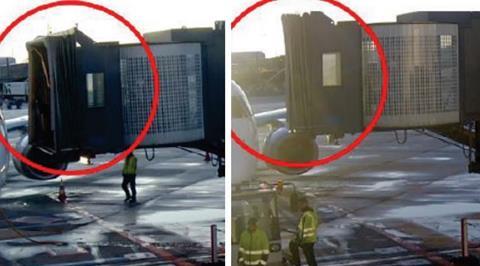 But Danish investigation authority HCL says that, while a towbarless tractor was manoeuvring to engage with the jet, it inadvertently contacted the aircraft's nose-gear.
To enable the cockpit crew to inspect the nose-gear, the airbridge had to be re-attached. The airbridge operator performed this task manually.
"While manoeuvring the [airbridge], the bridge operator felt sun-blinded," says HCL. "During the reconnection docking sequence, the angle between the [airbridge] platform and the aircraft was different from the angle at the initial arrival."
The angle between the platform and the Embraer did not trigger proximity sensors on the airbridge, and its left corner contacted the fuselage, puncturing the skin below the forward door. This structural damage prevented the jet from being pressurised.
HCL identifies the airframe as OH-LKK, originally delivered to Finnair in 2007.
As a result of the accident the ground-handling agent implemented preventative actions to ensure standardisation of docking procedures during airbridge reconnection.