Airbus and Boeing have written a joint letter to the US government expressing concerns that the introduction of soon-to-be-active "5G" wireless networks could have a grave impact on commercial air transportation.
The 20 December letter, signed by Boeing chief executive David Calhoun and Airbus Americas chief executive Jeff Knittel, is addressed to US secretary of transportation Pete Buttigieg, and asks for the roll-out of the new network to be delayed. It is currently scheduled to go into service on 5 January.
"The Boeing Company and Airbus have been working, along with other aviation industry stakeholders, to understand potential 5G interference with radio altimeters, which provide critical altitude information to pilots," the executives write. "We agree that 5G interference could adversely affect the ability of aircraft to safely operate."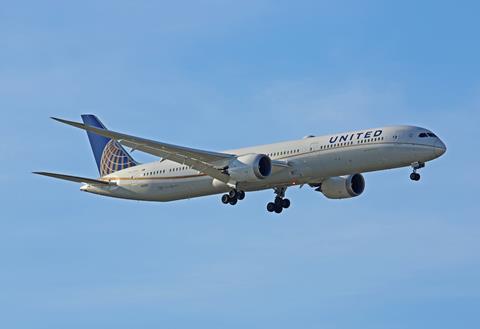 At issue are plans by the US cellular industry to begin transmitting in the 3700-3980 MHz range early next year, starting with transmissions between 3700 and 3800 MHz. The companies are using that range, which falls in the C-Band, for their new fifth-generation (5G) cellular networks.
US airline industry lobby group Airlines for America (A4A) warned last week that a recent 5G-related airworthiness directive (AD) from the Federal Aviation Administration threatens to disrupt some 345,000 flights and 32 million passengers as well as 5,400 cargo flights.
The FAA's order, citing studies, says such transmissions could interfere with aircraft altimeters, which use the 4200-4400 MHz range. The AD prohibits many flight operations, including instrument landings, in areas of potential interference. Those regions include many major US metropolitan areas.
"The impacts of allowing 5G to deploy and the FAA AD to take effect are massive, and come at a time when our industry is still struggling from the Covid-19 pandemic," the Airbus and Boeing executives say.
Boeing adds on 21 December that it is "collaborating with aviation authorities, government leaders, airlines and industry groups to ensure the continued operational safety of aircraft throughout the aviation system worldwide".
Last week, the US cellular industry pushed back against warnings that 5G wireless networks can cause dangerous interference with aircraft altimeters, citing the safe use of 5G in many other countries.
Wireless providers in nearly 40 countries already use C-Band; and providers in many countries – including Austria, Denmark, Finland, Ireland, New Zealand, Romania and Spain – transmit in the exact 3700-3800 MHz range that the US telecommunications industry will use, the cellular industry's trade group CTIA said.