Airbus has developed a new liquid-resistant integrated control panel for the A350, designed to avoid the risk to engine systems from accidental drink spillage in the cockpit.
Its development follows two incidents, in November last year and January this year, in which A350-900s diverted as a result of uncommanded engine shutdowns linked to beverage spills on the panel.
The panel, on the cockpit centre pedestal, houses the engine-start and electronic centralised aircraft monitoring systems.
"Results of the preliminary technical investigations indicate abnormal operation of the components of the [panel] due to liquid spillage in the system," says the European Union Aviation Safety Agency.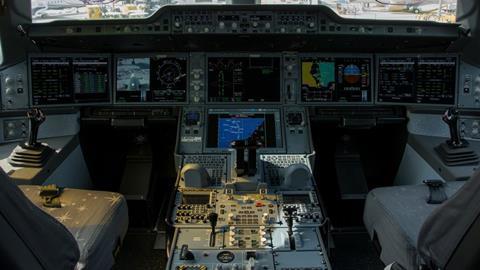 Airbus responded to the incidents with an interim fix in the form of a removable cover for the panel, intended to protect engine master controls, rotary knobs and thumbwheels. The cover would be removed during critical flight phases but installed at other times.
The airframer also introduced flight manual amendments defining a 'liquid prohibited' zone in the cockpit, as well as procedures to be followed in the event of spillage on the pedestal.
But Airbus has taken the further step of designing a new water-resistant integrated control panel, the fitting of which is set to be mandated by EASA.
The safety regulator says the airframer published, in August, a modification service bulletin for A350-900 and -1000 operators to adapt their aircraft accordingly.
EASA has proposed a directive under which operators will have to install the new panel within eight months, after which the temporary protective cover can be withdrawn along with the flight manual amendments.