Airbus is asking US regulators to approve A321XLR emergency descent performance based on that for the basic A321neo, arguing that aerodynamic changes to the long-range variant will only have a limited effect.
The airframer states that flight-test and analysis data shows the A321neo is able to descend from its certified ceiling of 39,800ft to 10,000ft in 2.67min.
Airbus has developed the A321XLR with high-speed performance modifications including reprofiling the inboard flaps, optimising the belly fairing and aileron droop, and redesigning flap-track fairings.
It states, in a communication to the US FAA, that total A321XLR drag in clean configuration falls by about 0.7% compared with the A321neo, as a result of "improving the flow topology" on the upper wing surface.
But during emergency descent this flow changes substantially, as a result of deploying air braking, and significantly increases drag.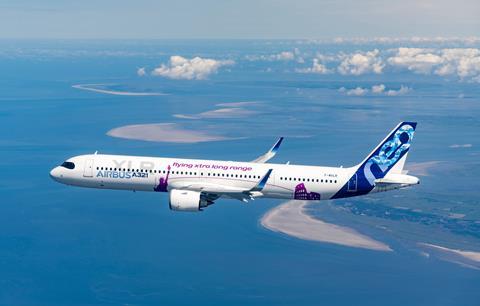 Airbus says the aerodynamic improvements are unlikely materially to affect the A321XLR's descent capability compared with the A321neo, and that the two can be "assumed equivalent".
It states that the A321XLR and A321neo will have identical flight controls for emergency descent, as well as identical pressure-control systems, limit speeds, and engines, and that the XLR should be granted the same status of compliance as the A321neo regarding pressurisation regulations.