Airbus has tweaked the flight guidance software for A320-family jets to address a pitch-up issue which could occur under certain circumstances on go-around.
The modification followed an incident involving an unstable approach by an A321neo during which a go-around was initiated with the autopilot engaged.
According to the European Union Aviation Safety Agency, the resulting pitch-up attitude led the autopilot to disconnect.
EASA says this was traced to the combination of take-off thrust being activated, with the autopilot engaged, and the jet in a high-lift configuration, within 50s of full speedbrake retraction.
Subsequent simulation analysis indicated that, if some A320-family aircraft were operated with significant aft centre-of-gravity, the pitch attitude could continue increasing after the autopilot disengaged.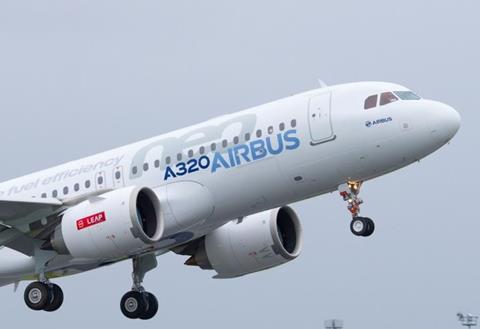 EASA points out that such a scenario was "never encountered" during actual operations. But it says that the pitch-up situation could nevertheless result in higher workload at a critical point of the flight.
In May 2020 the authority issued a directive notifying crews, through a temporary flight-manual revision, of the condition and adapting speedbrake procedures.
Airbus has since developed new flight guidance software standards and issued installation instructions.
This will enable the removal of the limitation carried in the flight-manual revision. EASA is ordering the upgrade on the affected aircraft models, which include A319s and A320neo-family variants.