An international trade group representing airports is the latest organisation to call for widespread coronavirus testing to replace quarantine measures in order to encourage passengers to begin travelling again.
Airports Council International (ACI) World last week called on governments to introduce consistent protocols for testing as an alternative to "broad-brush" quarantine requirements, which remain effective in many parts of the world. These measures are extending potential travellers' uncertainty about once again booking a flight.
The organisation says it will request the International Civil Aviation Organization (ICAO) develop a plan to "align risk-based, practical measures to allow the aviation industry to restart in a coordinated manner, while providing reassurance to travellers."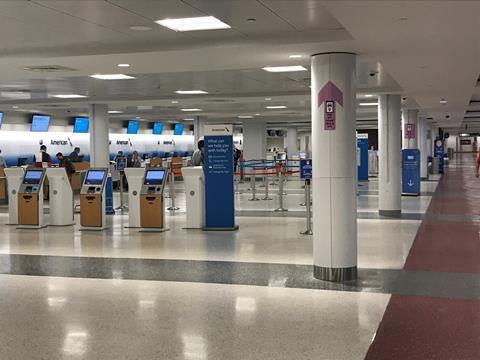 "Unilateral national measures, especially a quarantine requirement, is damaging to both the industry and passenger confidence," ACI World director general Luis Felipe de Oliveira says on 14 August. "Unnecessary quarantine measures are particularly harmful to passenger confidence as international air travellers have no assurance that, if they make flight arrangements, they will be able to return to their place of departure to continue their daily lives."
While the aviation industry hopes that pent-up demand for travel will drive recovery as the year progresses, a patchwork of rules and regulations – often within the same country or in neighbouring regions – are scaring away potential passengers. In some cases, they will also be subject to stringent measures when they return to their home countries as well.
In Europe, for example, passengers from "high-risk" countries entering Germany are tested for coronavirus at the airport, with a negative test exempting them from any quarantine requirement. Meanwhile, travellers entering neighbouring Switzerland are required to self-isolate for 10 days, even if they can present a negative test result.
In July, the UK imposed a mandatory quarantine restriction for passengers returning from their summer holidays in Spain, while no other European country did so. Germany only followed suit on 14 August.
In Latin America, countries like Colombia, Panama and Argentina continue to ban most travel, making it difficult for airlines to operate at all. On 17 August hundreds of thousands of protesters took to the streets across Argentina to demonstrate against the country's strict lockdown, which has now surpassed 150 days.
In North America, Canada has kept its border to the United States closed for non-essential travel, and maintains a 14-day quarantine order for all inbound passengers. Even some provinces continue to keep strict isolation regulations for inter-province travel that have been in place for more than five months.
Air Canada chief executive Calin Rovinescu has been an outspoken critic of these measures, saying that while they may have been necessary early on in the crisis, they are now simply damaging the industry and the Canadian economy. For weeks he has been appealing to the government to replace restrictions with a "science-based" approach to the issue.
ACI World and other industry groups agree.
"ACI believes it requires urgent action by governments to align risk-based practical measures to allow the aviation industry to restart in a coordinated manner, while providing reassurance to travellers," the organisation says.
Oliveira says that approach will benefit all industry players as well as the passengers. Low-risk countries, based on cases per 100,000 people, could require no testing, with medium-risk nations requiring a test "mutual acceptance of results", while high-risk countries requiring a combination of testing and quarantine "to enable verification of results".
IATA, which represents 290 airlines worldwide, has also said quarantines are delaying industry recovery. It sees potential for fast, accurate and affordable testing measures to be implemented so that countries can manage the virus while kick-starting the travel industry.
"We need to learn to manage the risks of living with Covid-19 with targeted and predictable measures that will safely rebuild traveller confidence and shattered economies," IATA director general Alexandre de Juniac said in July. Widespread, mutually-accepted testing, he added, is part of that equation.