Russian authorities believe all the passengers and crew members of an PZL-Mielec An-28 survived after the aircraft came down in remote terrain in western Siberia.
It had been operating a regional service on 16 July from Kedrovy eastwards to the city of Tomsk.
Preliminary information indicates the twin-engined aircraft was carrying at least 13 passengers, says the West Siberian transport division of the federal Investigative Committee.
The aircraft's crew last made contact around 16:00, it adds, but "did not get in touch" near the point of Bakchar, about halfway along the route.
But an emergency radio beacon started transmitting about 70km from Kedrovy.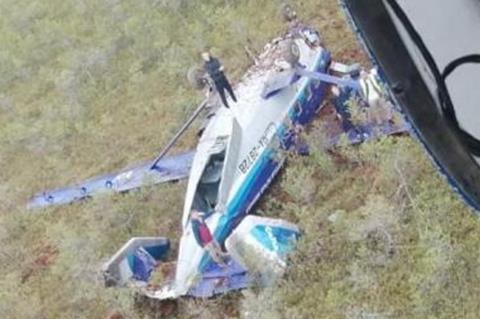 The aircraft was subsequently located in an area of brush, having come to rest inverted and badly damaged. All those on board, however, survived the accident.
West Siberia's prosecutor's office says the aircraft "made an emergency landing", and that there were "no casualties".
Images from the scene circulating on social media identify the aircraft as RA-28728 which Cirium fleets lists as being operated by Siberian regional airline SiLA, having originally been delivered to Aeroflot in April 1990.
Russian federal air transport regulator Rosaviatsia puts the total number on board at 18, comprising 15 passengers and three crew members.
It says the aircraft made a "hard landing" near Kolpashevo, some 155km from Tomsk, after which the COSPAS-SARSAT emergency beacon detection system picked up a transmitter signal.