US pilot union Air Line Pilots Association, International (ALPA) has pledged to block any attempt to raise the mandated pilot retirement age, which advocates say would help alleviate the pilot shortage.
ALPA is also vociferously opposed to reducing minimum aeronautical experience requirements for pilots entering the field, claiming doing so would erode safety.
Even though numerous US airlines have cancelled thousands of flights this year due to a dearth of qualified flight deck staff, ALPA contends there is no pilot shortage to alleviate.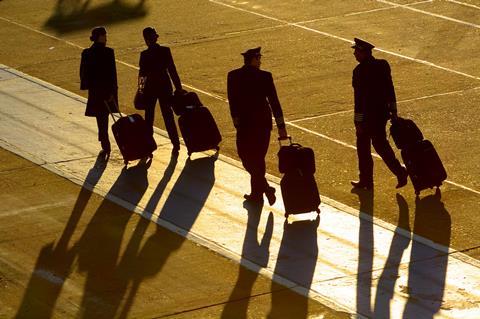 "This discussion is yet another attempt to distract the conversation from the real issue, which is the failure of airlines to deliver on a key goal of the multibillion-dollar relief plan Congress provided them during the pandemic," Joe DePete, ALPA president, says on 19 May. That goal, says DePete, was "to effectively manage air-service operations as travel resumes".
South Carolina Senator Lindsey Graham is reportedly working on finding consensus for legislation that would raise the mandatory pilot retirement age from 65.
"ALPA strongly opposes this proposed legislation as there is no reason to change the retirement age today, and doing so would only increase costs for airlines as well as introduce unnecessary risks to passengers and crew alike," he adds.
Increasing the required retirement age to 67 or 68 would have "significant unintended consequences", and displace pilots, ALPA says. The union adds that older pilots will be forced to leave "the most desirable international routes" because the international age limit set by civil aviation regulatory body ICAO is also 65.
"When age-65+ airline pilots return to domestic-only flying, they will then displace more junior pilots and both cohorts may require training on different aircraft, adding to the training costs of air carriers," ALPA says.
Earlier on 19 May, ALPA released a letter from DePete to acting Federal Aviation Administrator Billy Nolen. In that letter, DePete says reducing aeronautical experience requirements for beginner airline pilots would undermine aviation safety.
ALPA says a recent proposal by regional carrier Republic Airways attempts to "circumvent the clear intent of the law". The law in question requires most commercial pilot candidates to have 1,500h of flight time before qualifying for a restricted air transport pilot certification – and a seat in a US airliner.
Last month, Republic filed for an exemption to the so-called "1,500-hour" rule, saying its highly-selective ab initio training programme could be compared to the rigorous training the military provides to its pilots.
Pilots leaving the military for civilian aviation jobs are required to have just 750h of total flight time in their logbooks. Republic wants to make that the standard for its programme. Pilots graduating from university degree programmes are required to have 1,000h or 1,250h.
For ALPA, that is not sufficient.
Raising the retirement age and easing flight-time requirements have been proposed by various aviation interest groups as methods to increase pilot supply as the industry clamours for qualified flight deck professionals in the post-coronavirus environment.
According to consultancy Future and Active Pilot Advisors (FAPA), US carriers are set to hire 10,194 pilots in 2022, more than double the number hired in 2021. A study by management consultancy Oliver Wyman last year predicted that US airlines will continue to face shortages in the tens of thousands for the rest of the decade.
The USA is the only country that requires 1,500h of experience before candidates may enter the field.