Norwegian investigators have disclosed that they are probing a low approach involving a Wideroe De Havilland Dash 8-100 at the northern Svolvaer airport last month.
The aircraft dipped 700ft below the indicated barometric altitude during its approach, in darkness and instrument conditions, to runway 01 on 22 December.
Its crew received an ground-proximity warning system "pull up" alert, and aborted the landing, opting to return to Bodo airport.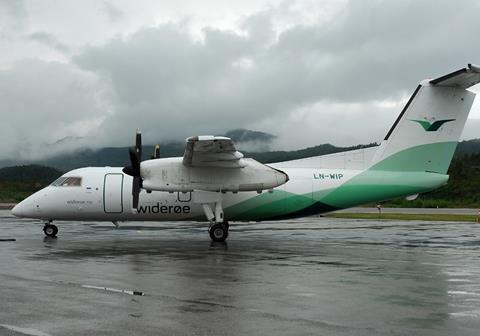 Investigation authority SHK says an "uncorrected" altimeter QNH setting led to the incident.
Meteorological data for the airport at the time of the incident shows the QNH figure – the mean sea level setting – at 987mb.
Aircraft in cruise above the transition altitude would normally use 1013mb as a standard pressure reference. Approach charts for Solvaer give a transition altitude of 7,000ft.
While the inquiry has not specified the settings used, the 26mb difference between the standard and local QNH figures would equate to a difference of around 700ft – with the altimeter falsely showing the aircraft flying higher than it is.
Solvaer airport is on the coast and its elevation is just 29ft. Its landing aids include localiser and DME, with satellite-based approach options.
None of the occupants of the aircraft – which SHK identifies as LN-WIP – was injured. The aircraft is a 1990 airframe originally delivered to Tyrolean Airways.