Russian investigators have found a damaged rear loading ramp following an Antonov An-26 depressurisation incident after take-off from Magan.
The aircraft (RA-26174) departed Magan for Magadan on 9 January, according to federal air transport regulator Rosaviatsia.
Rosaviatsia states that, 10min after lift-off, as the aircraft climbed through 2,900m (9,500ft), the ramp suffered a "partial opening" which led to "complete depressurisation".
The crew opted to return to Magan, and none of the 25 passengers or seven crew members was injured.
Rosaviatsia says an inspection found that six locks on the right-hand side of the loading ramp were in the closed position, but the shackles were "outside of the locks". The sill lock was closed but parts of the ramp structure were torn out.
The Sakha republic's investigative division is conducting an inquiry.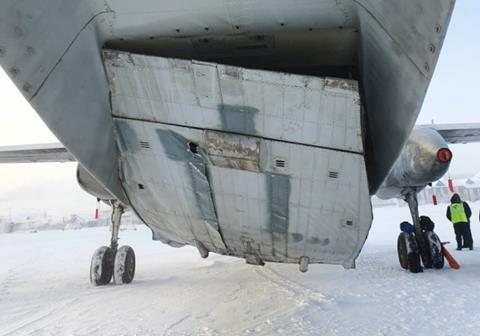 Rosaviatsia identifies the aircraft as a 1979 airframe, with an airworthiness certificate issued last year which remains valid to August 2024. Cirium fleets data indicates the aircraft is in service with Khabarovsk Airlines.
Its captain and first officer had respectively accumulated nearly 6,600h and over 2,800h on An-26s and An-24s.
Rosaviatsia has issued immediate recommendations instructing An-26 operators to check the condition of locks on the type's cargo ramp, to ensure they are not corroded, and that ramp components have the correct markings.
Crews should also be made more aware of the procedures for opening and closing aircraft doors.
Rosaviatsia states that, since 1992, there have been five occurrences – including two serious incidents – relating to the in-flight opening of doors or hatches on the An-26 and An-24.