UK investigators believe the pilot of a police service Britten-Norman Islander probably failed to activate the aircraft's engine anti-ice system before both powerplants shut down in flight.
The aircraft, with a single pilot and two observers, was on duty for the Police Service of Northern Ireland on 12 November last year.
It departed Belfast International in darkness and, after a short period on another task, headed for its originally-planned operating area, climbing to 7,000ft.
During this transit the aircraft entered cloud with an outside air temperature of less than 5°C.
While the pilot testified to the Air Accidents Investigation Branch that he recalled selecting the engine anti-ice, the inquiry says this was not likely despite his recollection.
The single-pilot operation precluded a 'challenge-and-response' process for entering instrument meteorological conditions, it adds, and also meant there was "no means" of trapping the anti-ice omission.
"It therefore represented a single failure path to double-engine flame-out," says the inquiry.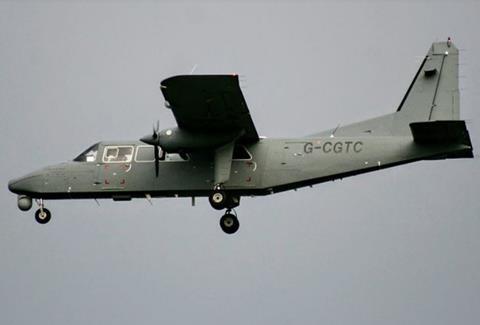 Ice build-up in the Rolls Royce M250-B17F engine intakes precipitated the flame-out and the loss of engine power also resulted in failure of several electrical systems including a topographical map display.
The pilot decided to attempt to glide the aircraft to Derry airport, which was closed at the time.
One of the observers went to assist the pilot, taking a map on his portable device, and supported the engine restart drills.
The right-hand engine restarted on the first attempt, some 90s after the failure, but three were needed for the left engine which restarted at 2,100ft.
Derry airport's closure meant it was unlit. The crew saw the airport late on the approach, and chose to fly a circuit to land, visually identifying the airport at about 300ft above ground during descent from the circuit.
The inquiry states that the rate of descent was variable and much higher than normal, but the Islander (G-CGTC) landed safely.
It says there was no evidence of defects in the engines, anti-ice system, fuel system or the fuel itself that might have led to the dual-engine failure.
Investigators noted that the pilot had been under personal strain over his employment situation, with disrupted sleep patterns, and point out that stress can result in performance deterioration including omitting to carry out actions.
Safety measures introduced by the operator since the event include a detailed pre-flight briefing on icing conditions, use of a standard response to altitude changes, and icing checklists which can be requested by either the pilot or observers – as well as better access to programmes for mental wellbeing.